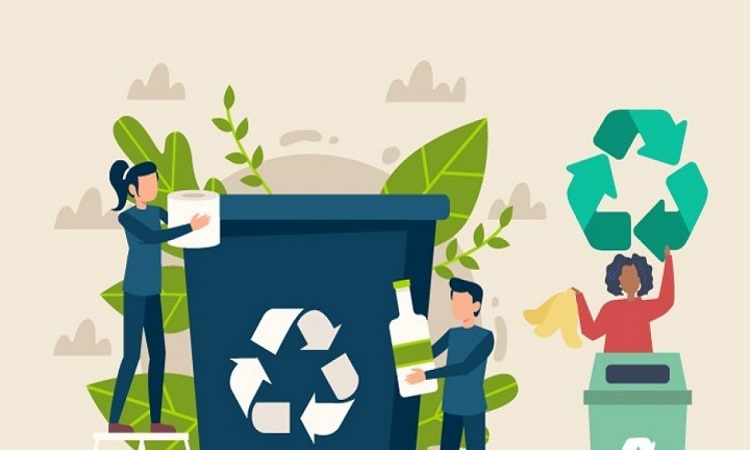 Waste management is a serious global concern and to help with making recycling efficient and cheaper in September 2018, the United Nations Environment Programme announced a $6 million project to boost the recycling and collection of high-value plastic, reduce the use of difficult-to-recycle plastic and increase public support on plastic pollution policies is Asian regions.
According to Astute Analytica, the global waste management market is estimated to grow at a CAGR of ~5.5% during 2021-2027 (forecast period).
Increase in amount of waste generation
Humans produce millions of tons of waste every year with only 20% of waste recycled every year. Globally, waste generation has increased immensely in the recent decades with no signs of slowing down. It is expected that global municipal solid waste (MSW) will increase by ~70% to 3.4 billion metric tons by the end of the year 2050. The immense amount of waste generation may be majorly attributed to increasing population, but the level of shareholding amongst handful of developed nation contributed majorly in this environmental catastrophe. As per the studies, Canada generated 36.1 metric tons of per capita annual waste. The US accounted an average of 808 kg/year–near to tonne—which is more than double of the waste generation by population of Japan.
Paper and Paperboard segment occupies the major share of the global waste management market
Paper and paperboard hold the largest share in the MSW; products made of paper and paperboard materials as packaging, containers and non-durable goods—it includes products such as cups, paper platers, tissue paper, newspapers and office papers. Packaging and containers include products such as sacks, bags, milk cartons and corrugated boxes. According to the American Forest & Paper Association (AF&PA), in 2018, the total generation of paper and paperboard was 67.4 million tons, which was 23.1% of total MSW generation in 2018.
Regional Insights of the Global Waste Management Market
Asia-Pacific: Biggest waste producers
The Asia-Pacific waste management market garnered the largest share and anticipated to maintain the dominance over the forecast period 2021-2027. The opportunistic scope in the APAC market is attributed to improper management of waste in the region—despite having the largest population base amongst all the other regions, rapid growth in urbanisation, and lag in sustainable and infrastructure development for waste management.
Countries except Singapore, Tokyo and Shanghai, all the major cities are facing the issues of open dumping. Digging more on open dumps, Philippines has the policy of prohibition on open dumps yet the country accounted for 27 open dumps within the vicinity of Manila Bay area alone in 2019, as per the National Solid Waste Management Commission. In Thailand, only a fifth-part of its about 2,500 open dumps are properly managed according to Thailand Pollution Control Department. Similarly, in Malaysia, open burning is banned, but is still largely practised nationwide. Moreover, the Sydney Morning Herald reported that COVID-19 surged the illegal dumping in Sydney by 40%, reported by due to increasing interest of residents to clean their properties during the lockdown.
Hence, the APAC region offer lucrative opportunities for companies to gain competitive advantage by managing the waste at different scale in various countries.
Competitive Overview of the Global Waste Management Market
The leading players in the global waste management market include Waste Management Inc., Veolia Environnement, Suez, Republic Services, Inc., Remondis Se & Co. Kg, Hitachi Zosen Corporation, Covanta Holding Corporation, Daiseki Co., Ltd., Clean Harbors, Inc. and Biffa Plc among others. Companies are engaged in extensive R&D, mergers and acquisitions, collaborative partnerships and other competitive strategies to acquire majority of the market share.
To Request Sample: https://www.astuteanalytica.com/industry-report/waste-management-market
Consult our analysts to gain crucial insights for your business growth and grab the business opportunities of the global waste management market.
The research study on the global waste management market offers in-depth analysis of growth potential, statistics, upcoming trends and market size & forecast. The report promises detailed industry insights that help decision-makers to analyse the growth drivers, challenges, opportunities and competitive dynamics of the market.
Leave a reply
Your email address will not be published. required fields are marked *