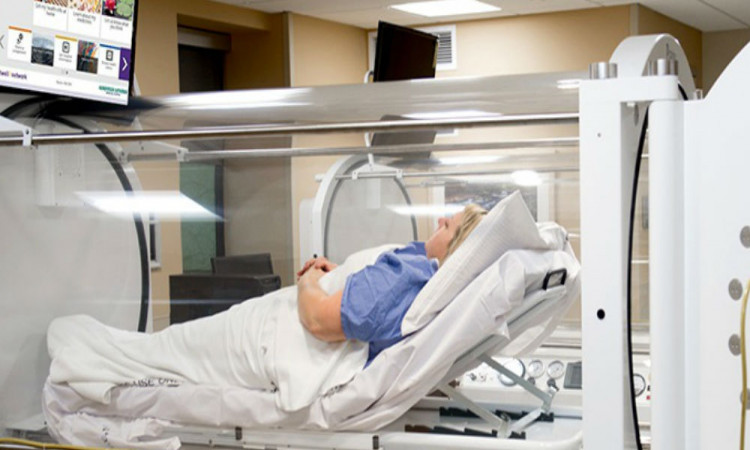 If there's one good thing that has come out of COVID, it has to be the increasing awareness about immunity.
For the medical world although, especially the front liners handling COVID patients, it's been a one-of-a-kind experience.
Every prognosis took wrong turns, with little to almost no respite in mitigating recurring symptoms. Since then, doctors have been harping on the importance of immunity in the wake of lengthy infections and beyond. A "Better safe than sorry" scenario, you see.
Although there have been some steadfast developments across countries producing early vaccines to boost immunity, there's a still lot to wait for with bated breath.
In serious COVID cases, it was hypoxaemic respiratory failure along with organ dysfunction that seemed to have contributed largely to the mortality rate.
As such, alternative treatment options like Hyperbaric Oxygen Therapy were sought to help mitigate moderate to heavy symptoms. The very first instance, in this case, can be traced back to Wuhan, the source center for COVID, where doctors resorted to using hyperbaric chambers in treating serious COVID patients and successfully improved their condition.
Hyperbaric Oxygen Therapy, a scientifically-driven treatment, once reserved to treat deep-sea divers combating decompression sickness, relies on the power of oxygen to reverse all odds.
With regular sessions and prescribed dosage, it has established its efficacy once again to combat this deadly virus disrupting lives all over.
In this post, we discuss the role of Hyperbaric Oxygen Therapy as a profound treatment option for COVID, its inherent benefits, and its limitations.
A Holistic Option For Treatment
A pure non-invasive process, Hyperbaric Oxygen Therapy leads patients into a pressurized glass chamber where the patient breathes in one hundred percent unadulterated oxygen.
The oxygen gets absorbed into the bloodstream fast and works its way towards restoring normalcy-deprived tissues at large.
Additionally, it also accounts for the regeneration of cells to boost natural healing, thus offering a chance for the body to help fight infection and achieve overall holistic wellness.
Hyperbaric Oxygen Therapy, largely restricted as an off-label treatment has depicted greater vitality in imparting athletic performance and endurance level as well.
No wonder, several celebrity sports personalities are keen on using hyperbaric chambers to regain stamina after a tiring schedule, or when looking to make a fast comeback following a field injury.
It is also known to aid in improving skin elasticity and repair damage by flushing out toxins. Performing artists who are always looking to make an appearance are believed to sleep in a hyperbaric chamber, from time to time, to help do away with regularly occurring skin issues like acne, wrinkles, or eczema, thus continuing to be a better and brighter version of themselves.
Above all, Hyperbaric Oxygen therapy induces much faster and better healing from a string of medical conditions, seldom offered by any other forms of alternative treatment.
Why Hyperbaric Therapy Is Good Against Covid-19?
Notwithstanding that more than eighty percent of patients are asymptomatic, Hyperbaric Oxygen Therapy has made it possible to recover serious COVID patients, ousting the need for a ventilator.
Within a hyperbaric chamber, a significant amount of oxygenation across tissues has been found to mitigate recurring symptoms of hypoxia.
Also, lowering the adhesion molecules (ICAM-1 and BETA 2 INTEGRIN) expression has further made it possible to help prevent the inflammatory cells from going active.
Thus, neuroinflammation and oxidative stress made way for the production of ROS, or broadly expressed as Reactive Oxygen Species. It carries inherent microbial properties that can act directly on DNA, lipid molecules, and RNA.
According to a medical study, Hyperbaric Oxygen Therapy has been effective in bringing relief from a range of symptoms that include:
• Hypoxia
• Headaches
• Loss of appetite
• Feeling of weakness
Besides, it also showed marked improvement in enhancing several clinical parameters that are objective; coagulation profile, arterial blood gas values, the function of the liver, and lung pathology.
Hyperbaric Oxygen Therapy has been also effective in raising the partial oxygen pressure right across the inflammatory, as well as the alveolar barrier, which in turn significantly increases diffusion distance and rate of oxygen. This is where this particular therapy gains an upper hand over other methods of oxygen delivery like invasive ventilation, inhaling through face masks, ECMO (Extracorporeal membrane oxygenation), and a nasal cannula to name a few.
From a much wider perspective, Hyperbaric Oxygen Therapy is now being used to treat serious COVID patients, who are also experiencing bilateral pneumonia.
As such, all instances of inflammatory reactions have been taken care of, and the key symptoms have taken a backseat with a large number of patients released from the hospital.
However, the current success of Hyperbaric Oxygen Therapy in dealing with COVID cases is being looked at as being anecdotal. A multicentre trial is currently in place to help investigate all adults showing moderate symptoms of COVID, and are being treated at a medical facility.
There is certainly no denying the efficacy of Hyperbaric Oxygen Therapy when it comes to treating COVID patients. However, its limited exposure, even for several advanced medical facilities can pose a hindrance.
As we race towards a viable option to treat COVID-induced symptoms, the role of Hyperbaric Oxygen Therapy certainly uplifts the role of alternative treatment that has been neglected for so long. 
Leave a reply
Your email address will not be published. required fields are marked *