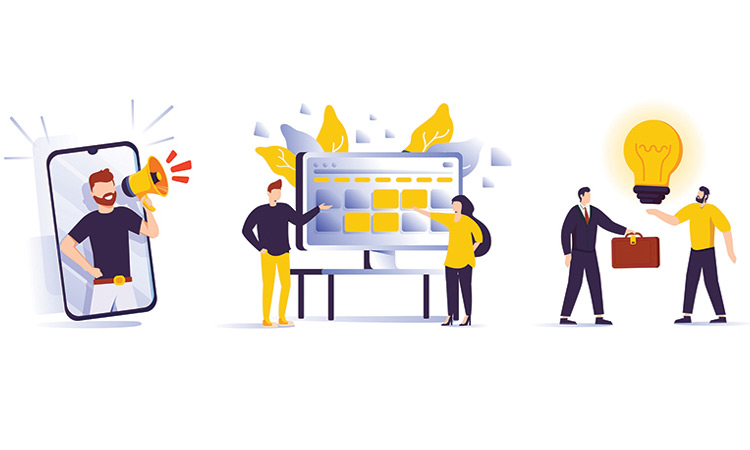 Find out about the top requirements of your sponsors as well as exhibitors to curate a breathtaking virtual event effortlessly!
We all know about the drastic toll that coronavirus took on mankind. Each and every activity, from our daily lifestyle to our content consumption, saw a quite different perspective. Similarly, the event industry was also greeted with the tech-savvy virtual world.
Virtual events have been known to facilitate individuals with an incredible opportunity to partake in events from the comfort of their houses. There's no denying the fact that you must've come across at least one virtual event by now. The virtual event platforms offer an exuberant opportunity to lure in more sponsors as well as exhibitors for your event.
Organisations around the globe utilised the potential of virtual events for hosting worldwide conferences, effective webinars, brainstorming workshops, and a lot more. Needless to say, virtual events have received unfathomable success over the past few months.
Sponsors, as well as exhibitors, incur great benefits and extraordinary return on investment with the help of virtual events. In this article, we are going to talk about what your sponsors truly want and how you can cater to all the requirements. With that being said, let us continue unravelling the requirements of your brand sponsors.
Who Are Sponsors and Exhibitors?
Sponsors as well as exhibitors are referred to brands or individuals who willingly offer financial support to event organisers. They facilitate in carrying out their expenses that incur during any event. Moreover, sponsors as well as exhibitors also affect the event's promotion by offering their brand value to them.
Therefore, it is extremely important to partner with the correct sponsors and exhibitors for your upcoming event that matches your event. Undeniably, sponsors or exhibitors have the set targets that they have to achieve through your event, be it hybrid or virtual.
These targets can be
● To educate the individuals
● To spread awareness
● To foster new relations
● Maximise the audience and a lot more.
What Do Sponsors And Exhibitors Want From A Virtual Event?
Sponsors play a crucial role in the success of any event. As we mentioned above, apart from facilitating with financial aid, sponsors also effectively promote the event with the help of the brand image. In return, sponsors want to achieve a certain set of objectives with the help of virtual events. Below we have mentioned some key pointers about what your sponsors and exhibitors want from virtual events:
● A Global Reach
Virtual events empower organisations to effortlessly target a global market. Sponsors as well as exhibitors surely benefit from this technology. One of their main intentions is to reach a global audience and showcase their product as well as services. This helps them attract more customers to their company. Undeniably, any organisation would benefit from more consumers. Therefore, it is your responsibility to help the sponsor as well as exhibitors to achieve their required objectives. To do so, you can utilise a variety of features that boost effective communication during the entire event. For instance, utilisation of tools and equipment like live chat, live surveys, live polls and so forth can help in building extraordinary results.
● Networking Opportunities
The coronavirus drastically affected the interaction and communication of brand representatives in every corner of the world. Needless to say, this acquired a negative result on networking opportunities available to the individuals. Sponsors and exhibitors want to rectify this negative impact of covid-19 and interact with a wider audience now.
Virtual events are incredible ways to boost networking and interact with prominent personalities. A virtual event platform empowers organisers with extravagant features that offer seamless networking opportunities. You can utilise the networking lounge, business card exchange, one on one meeting and a lot more. All these features boost effective communication and allow the participants to interact with the brand representatives, speakers, as well as hosts in the most convenient manner possible.
● Customisation
Who would want to showcase their product as well as services in a rigid environment, right? Therefore, modifications and alterations in a virtual environment have been gaining significant popularity. Utmost customisation empowers the event organisers to bring about the required changes in a virtual event platform. Similarly, sponsors as well as exhibitors also want to create a custom environment in order to lure in their target audience. Facilitate your sponsor with custom features like DIY exhibition booth, dynamic banners as well as a lobby. These elements empower the sponsors and exhibitors to customise the crucial aspects of a virtual event and mould it as per their prerequisites
● Reliable Data For Analysis
In physical events, it becomes a quite tedious task to track and monitor the moves of each and every individual. This results in the poor collection of data throughout the event. Fortunately, virtual event platforms are an extravagant alternative to target this problem. An event organiser can simply amalgamate the top-notch features like AI Matchmaking, attendee footprinting, access management control, and a lot more. These are specially designed features that generate reliable data. Moreover, this accurate data can further be utilised for carrying on various analysis for organisations. It helps the brand sponsors understand how many views per click they received or how many individuals were instantly redirected to the exhibition booths throughout the virtual event.
● Better ROI
Return on investment plays a major role for the sponsors as well as exhibitors. When a brand decides to partner with an organisation to help them host virtual as well as hybrid events, one of the rationales is to gain a significant return on investment. The better the ROI, the more successful is an event in the eyes of sponsors. Therefore, it is one of their major requirements to receive an extraordinary return on their investment. This is where you have to pay all your attention and cater to your sponsors and exhibitors.
For an effective return on investment, the audience plays a major role. Therefore, it is essential to keep the audience engaged throughout the event. This can be easily achieved by incorporating effective engagement features like gamification, exhibition hall, auditorium and so forth. Moreover, you must also incorporate easy communication tools to boost interaction with the brand representative. All these aspects will help you create a perfect virtual event. This will surely benefit your sponsors as well as exhibitors.
Conclusion
We all know that the virtual events has miraculously taken over the world. Virtual event platforms empowers participants to partake from any corner of the world seamlessly. For the success of a virtual event, the sponsors and exhibitors play a major role.
In the above-mentioned article, we have talked about a few of the requirements that sponsors and exhibitors often have. This article also talks about effective ways in which you can target the requirements of your sponsors and exhibitors. We trust that this article will provide you with some extraordinary information and help you host marvelous virtual events in the near future.
Leave a reply
Your email address will not be published. required fields are marked *