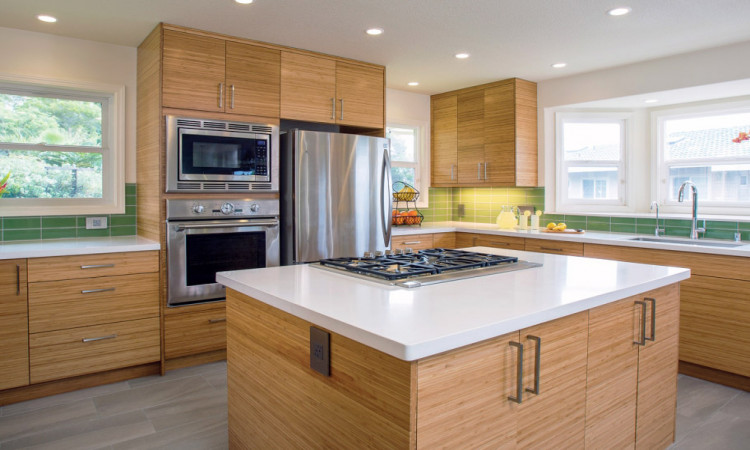 A kitchen is a place where food is cooked with love for all the family members. Wouldn't you love to cook in a visually-pleasing environment? Doing so is sure to lift your mood, and it will ultimately pass down the awesomeness to everything you prepare. As spring is approaching fast, you should make the final decision soon, as you won't get a better time to decorate your RTA kitchen cabinets or other kitchen elements, than this. Renovating kitchen cabinets should be on your priority list because just by changing its looks, you can create a significant impact on the overall kitchen appearance. For people on a budget, decorating or renovating the kitchen cabinets will not be heavy on pocket.
As most of the RTA kitchen cabinets come pre-designed with various amenities, there is no definite need to remodel them. You can bring drastic changes in their appearance by merely changing their color. However, it should be noted that the color should be chosen after performing due research. Never select a random color for your kitchen cabinets based on your personal preference. Instead, check what color will go best with your current kitchen background or added kitchen utilities. If you are not very good at this, then we have some good news for you! After talking to professionals and experts, we have prepared an evergreen list of colors that can bring your RTA cabinets back to life. Go through each option and choose wisely.
1. Grey Color
As you already know, grey is a neutral color that often adds a sophisticated and sleek look. Furthermore, it also falls in the fashionable color range that can help you get over the mundane approach of the old or usual compositions. What makes grey color rank at the top is its ability to blend with endless colors and designs seamlessly. If you want a contemporary look, then go ahead with a warm grey shade. Kitchen having wooden furniture pieces will go exceptionally well with grey colored RTA cabinets and create a conventional ambiance that is sure to like.
2. Wooden Color
If you check the cabinet or furniture designs of the old days, then you will find many of them painted in wooden color. You can call it a universal color as it is being used since ages and is perfect for both conventional and modern designs. To get the most from this color, choose a wooden color stain that beautifully matches the current kitchen amenities. If you are unable to decide the right wooden color stain for your RTA kitchen cabinets, then you can always consult a professional in the store. Most of the stores have a color consultant to assist their customers better. For online purchases, you can request a call from their team for assistance. It is sure to help you select the best wood stain for your kitchen cabinet.
3. Olive Green Color
People irked with dull colors and designs should choose the olive green color for repainting their kitchen cabinets. This color is trendy and also adds a zing of style. Its glossy finish exudes a finesse that gives an altogether new look to your entire kitchen. The best combination will be olive green kitchen cabinets with shiny white floors, countertops, and walls. You can also adjust other kitchen elements a bit, like kitchen furniture, to create seamless sync of design. If you have the budget, then you can also consider replacing the current flooring with hardwood flooring. It will accentuate the olive green cabinet looks even more.
4. White Color
Some people have a misconception that white is a dull color. It is rather the king of all the primary colors. Though many people avoid this color, because it attracts dirt and makes them more visible, but it cannot overrule the fact that it can make your space look shiny and also add hints of natural light, even in areas with low natural lights. In fact, elements made of hardwood, fiberboard, and more, looks amazingly beautiful when made using white color. White cabinetry can never let you down, so you need not worry about repainting your RTA kitchen cabinets with it. To add more contrasts, you can pair this look with vibrant kitchen elements. But if you're someone that wants a subtle look with pleasing vibes in the kitchen, then white is the color for you.
5. Cherry Color
A beautiful color and kitchen designers' favorite, cherry has always been used to make kitchen cabinets look lively and bold. Cherry color is often associated with a joyous setting and rejuvenation. If your kitchen's walls, floor, and counter space have neutral colors, then cherry colored RTA cabinets are going to be a big hit. Being a bright color, it can easily complement various colors and elements. If you spend a lot of your time in the kitchen, then this investment will be worth it.
6. Dark Chocolate Color
The last recommendation on the list is the dark chocolate color. If you're a busy bee that doesn't get much time to clean your kitchen, then you will fall in love with dark chocolate colored kitchen cabinets. Because of its dark color, dirt or dust isn't easily visible, so you are saved from the hassle of cleaning it frequently. Even if you love cleaning, you can still create a classic kitchen ambiance by strategically aligning it with the current design of your kitchen and overall kitchen elements. You shouldn't hesitate to make minor changes in the kitchen elements if the suggested change brings about a great difference in the overall looks.
7. In Conclusion
The kitchen is an important part of your house, and you shouldn't let it remain in a dull ambiance. As spring brings together various colors and a pleasing atmosphere, you should take this time as an opportunity to remodel or decorate your RTA kitchen cabinets. Just follow the tips shared in this guide, and you will be amazed at the result.
Leave a reply
Your email address will not be published. required fields are marked *