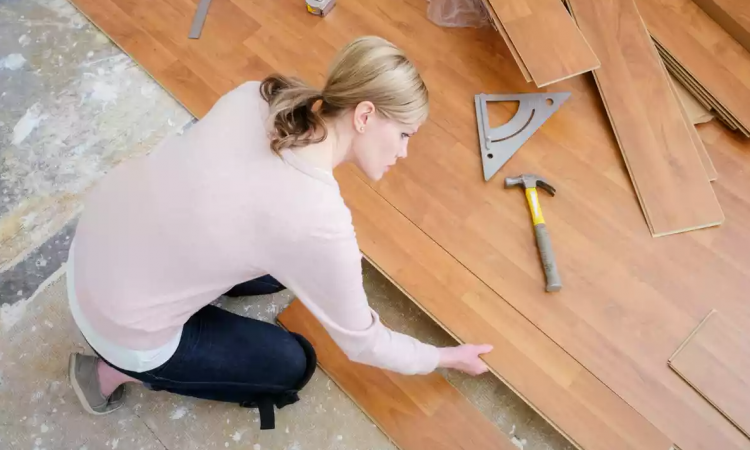 What is laminate?
The principle applies to laminate: layer on layer. In principle, an inexpensive, stabilizing, but not very abrasion-resistant underlay is bonded to a decorative and robust top layer with this floor covering.
A wood fiberboard is in the core of the floor covering. Below is the insulation and above it the printed decor paper. In addition, there is the sealing or the wear layer. The result looks like real wood or stone. Laminate is available in countless color variations, with and without a structured surface. With a structured surface, laminate doesn't just look like wood. The feel is also based on the original.
We would be happy to explain to you what advantages laminate has - and what disadvantages. You will also find out how much the individual variants cost. And we will tell you which rooms this flooring is particularly suitable for.
advantages of laminate flooring:
The versatile laminate flooring has the following advantages:
1. Large selection of optics
A big advantage is the huge choice of optics. Pine, walnut, teak, stone, oak white or light gray, with and without pores or structure, cracks or knotholes - you can have it all. 25 centimeter wide "planks" are also on offer.
2. Easy installation
You can lay laminate yourself with a little skill - even in rented apartments. Every manufacturer calls their installation system a little different. In principle, the boards are clicked into each other and at the end form a floating floor covering. You can take it with you when you move out. Some types of laminate are glued to the substrate.
3. A floor that can withstand something
Laminate is robust, even cigarette burns leave almost no marks. The two-digit wear class on the packaging indicates how much the floor can withstand: For the living area there is a 2 at the front, then a 1.2 or 3. Class 23 is extra resistant. There are also abrasion classes 1 to 5.
4. Laminate is easy to care for
The flooring is of house antistatic and stain-resistant. The same applies to cleaning as to parquet: vacuuming or sweeping and then wiping with a damp cloth. Finished!
5. It fits well over underfloor heating
A great advantage of laminate is that it hardly insulates. It is therefore well suited as a floor covering over underfloor heating. Because: Laminate lets the heat pass unhindered.
6. It is ideal for allergy sufferers and pets
Laminate is low in pollutants, robust, and easy to care for. All plus points that residents with allergies or pets appreciate. If you have an animal with very sharp claws, you should choose a floor covering with a high wear class.
7. Laminate is lightfast
UV rays cannot harm the material. The colors do not fade and remain beautiful as they are.
8. Inexpensive flooring
Laminate is affordable, especially when compared to parquet. For 15 to 20 euros per square meter, you get decent quality. Thick, high-quality laminate costs around 35 euros per square meter.
disadvantages of laminate flooring:
Laminate flooring also has some disadvantages. As a result, it is not suitable for every room or application.

1. Laminate is easy to step on
Thanks to its structure, the surface is considered "loud". Especially when it is laid floating directly on the screen. This is remedied by special underlays which, among other things, audibly reduce the impact noise. Modern laminate already contains an insulating layer for more sound insulation. However, this also drives up the price.
2. Laminate cannot be sanded
Despite the resilient sealing, deep scratches or holes can appear over the years. For example when a large knife or a saucepan falls on the floor. Unlike parquet, sanding is not possible.
Quirks can only be temporarily filled with hard wax or a wood paste of the same color. Alternatively, you have to exchange the board.
Simple laminate lasts around eight to ten years, a very good 15. Some manufacturers even give a guarantee of up to 30 years.
3. It is not 100 percent waterproof
Compared to tiles, laminate is not one hundred percent waterproof. Therefore it can swell at the joints. This makes it less suitable for damp rooms such as bathrooms or kitchens. However, manufacturers also offer variants with special moisture protection.
Leave a reply
Your email address will not be published. required fields are marked *