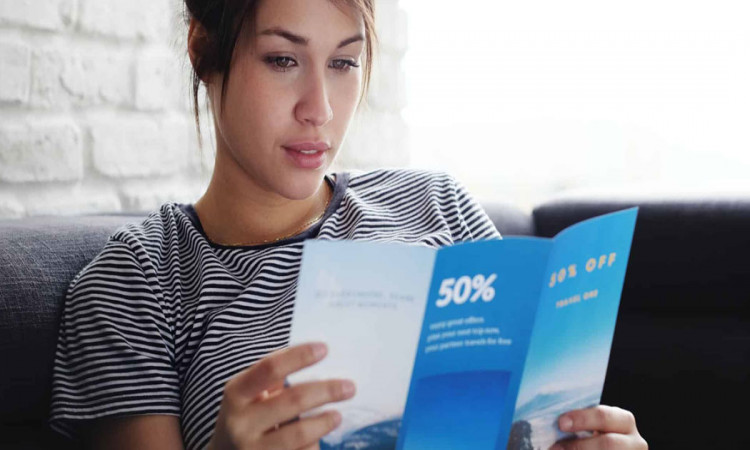 Today everyone prefers digital advertising over other forms of advertising like print or radio or television. Years ago businesses that used to rely on print advertising for their promotion purpose today prefer investing and focusing more on different digital advertising methods.
It is true that digital technology has transformed the world, but the truth is that digital advertising cannot completely replace the print industry. Printed marketing tools like leaflets, brochures, pamphlets, business cards etc. offer several benefits
In this blog let us understand what are the advantages of leaflet advertising. Before learning about the advantages, let us try to know more about leaflets.
What is a leaflet? Why to use leaflets for advertising?
A leaflet is a sheet of paper used for putting across a clear and concise message. Leaflets are printed with important information and details which need to be shared with a wider audience. Leaflets are used by businesses to advertise and promote their products and services. They are used for informing people about the launch of new products or opening of new stores or some sale or special offers.
Leaflet advertising is a wonderful way to introduce a new business to the market. It is a cost-effective way to create awareness about your business. For established businesses, it is an effective way to attract new customers. Leaflet advertising helps in growing business without investing a lot.
What are the advantages of leaflets in advertising?
Dropping leaflets on doorsteps is a very old and popular method used by local businesses to promote their products and services. Posting leaflets involves very little cost as all one needs to pay is hourly wages to persons posting them to the doorsteps or drop boxes. At the same time to get a business noticed digitally one has to pay hundreds or thousands every month for different digital marketing tools.
Designing and production of leaflets are also significantly cheaper as compared to producing digital ads or promotional material. Leaflets can be easily designed for free on a computer and printed. To produce high quality leaflets one can invest in digital or offset printing of the leaflets which is also significantly cost effective. Leaflets are printed in large quantities and hence the cost of designing and printing leaflets is negligible. One can benefit from the economies of scale.
There is no word count or character limitations with regards to leaflet advertising. Unlike digital advertising one can add as much information as required in a leaflet. The information needs to be presented in an organized and visually appealing layout. One can include any information like the name of the business, logo, contact details, product or service information, information about any offers or sale, images of the product etc. in a leaflet.
Though there is no restriction on the amount of information included in a leaflet, an ideal leaflet should be eye catchy including a good combination of images and text. The text should be to the point, possibly in bullet form.
Attractive and colourful layouts of leaflets are visually pleasing. The use of eye catchy headers and beautiful images play an important role in grabbing the attention of the receiver. Unlike the paid advertisements and promotions, leaflets are not very intrusive, their pleasing look helps grab the attention of potential customers.
The best way to distribute leaflets is by dropping them in people's letterboxes or handing them out in busy areas like markets or malls. This helps to easily target the local demographics. You can reach out to more of the local consumers through leaflets. Even digital marketing cannot help to target locally effectively.
One can distribute leaflets in areas probable to have a larger percentage of the target audience. For example, if a new shop is opening in a certain locality then distributing leaflets in a shopping complex or mall near the locality can help target the local shoppers.
The Bottom Line
Leaflets are one of the most cost-effective methods of advertising. They are very easy to design, produce and distribute. They are attractive and help garner the attention of the target audience.
If you own a local business or are launching a new product or service in the market, there is no doubt leaflet advertising should be a part of your marketing plan.
Leaflets are the best way to impress and attract potential customers to your store or website. There are many branding and designing agencies that can offer professional leaflet designing and printing services at affordable rates.
Leave a reply
Your email address will not be published. required fields are marked *