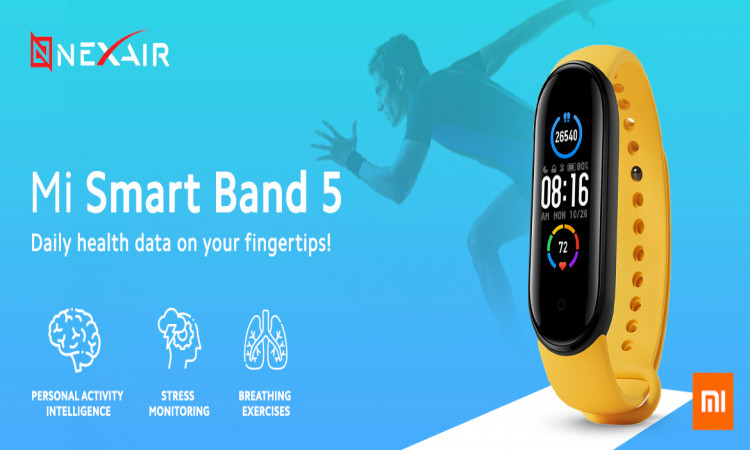 The tech world has now shifted from the touch of your finger tip, to simply carrying it on your arm wrist. It has become so easy and highly convenient to go over the daily summary on a small compact screen. We are talking about the smart watch.

And no one does is better than Xiaomi Mi band 5. It comes in 6 refreshing colorful straps in teal, navy blue, yellow, orange, mint green and black, to match with your outfits for any time of the day. This smart band comes with the standard black strap and all other colours, can be purchased separately.
Coming to the dynamic display that the smart band provides, this band has 20% bigger screen than the previous model. Thus giving a better display of missed calls, messages, notifications and other alerts all in one screen. And by dynamic display, it not only means bigger and wider screen, but up to 65 dial themes. So you can now customize the theme of the dial with the most used features to be displayed on the screen as per your need.
Be in sync with the sport that you love
The purpose of the smart band is to make alerts and notifications accessible without having the need to carry your smart phone with you all the times. Moreover, mi band 5 is now designed for both indoor and outdoor exercises. It comes with 11 professional sports modes, such as indoor running, elliptical, rowing, cycling, swimming, treadmill, jump-rope, power walking, or free style.