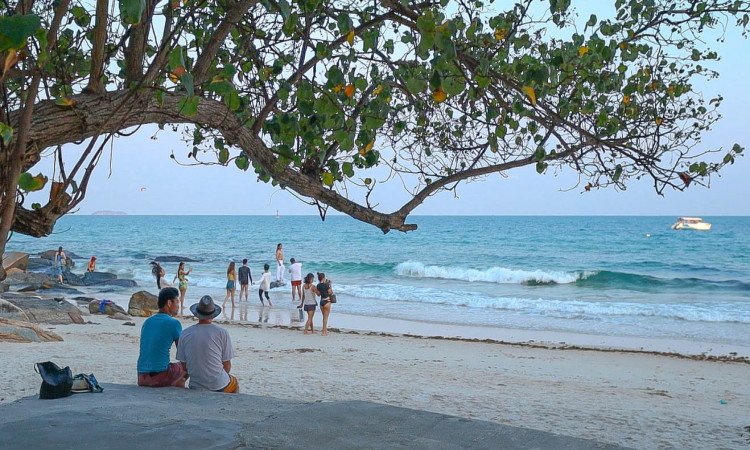 Everyone is familiar that Bangkok is the capital of Thailand. Most people know it from its vibrant street culture, exotic cuisine, and ornate attractions, but not everyone knows that near the capital, there are multiple islands that offer breathtaking beauty, lush greenery, and magnificent beaches. There are many islands quite near Bangkok that are truly mesmerizing and some are farther. Among some of the close ones are Koh Samet, Koh Si Chang, and Koh Larn. Koh Samui and Koh Pha Ngan are much farther but have their own reasons for you to visit them..
Regardless if you're planning a honeymoon, romantic, family, or friends trip, if you're in the Bangkok area you should definitely visit one of these islands, and here's why:
Koh Si Chang
",="" sans-serif;"="">Koh Si Chang is placed in an exotic location and so close to Bangkok! There, you can expect clear waters and plenty of water activities The distance from Koh Si Chang to Bangkok is only about 75 km.
It's rich in history and what's so interesting about it is that there you can find both a Thai temple, "Was Asdangkhanimitr", and the infamous "Royal Summer Palace" that was built by Rama Fifth in 1982. There, you can also indulge in many water activities - snorkeling, fishing, and kayaking among many others.
Koh Samet
Perhaps the most popular island in the Bangkok area is Koh Samet. The distance from Koh Samet to Bangkok is around 200 km. It's situated in the southeast part of the capital of Thailand.
Getting to Koh Samet is fairly easy and it only takes about 2.5-3 hours to get there, depend on the transportation you take.
Samet Island is perfect for both couples and families. It offers crystal clear water, beautiful white sand beaches, and tranquil coral reefs. Among some of the activities that you can try there are scuba diving, banana boating, water skiing, and jet-skiing to name a few. Koh Samet brings a unique and quiet atmosphere on one hand, and lively nightlife on the other.
Koh Samui
This tropical island is a bit farther from Bangkok but it is perfect for the lovers of pristine beaches and attractive waterfalls. The distance from Koh Samui to Bangkok is 763 km (as said, a bit farther from Bangkok). Perhaps the best thing about is the "And Thong National Park" that's located nearby. In the park, you can deep dive into nature and enjoy all of its greenery. You can also visit a grandma and grandpa's stone shop called "Hin Ta and Hin Yai" or visit the Koh Samui landmark - the 12 meters high "Big Golden Golden Buddha".
Koh Larn
Koh Larn is called the "Coral Island" because of its spectacular sunset views, wooded hills, and welcoming beaches. It's also being described by the locals as one of the hidden treasures in this area. The distance from Koh Larn to Bangkok is 122 km. Besides riding a banana boat, here you can sea walk and try parasailing. Besides that on the "Coral Island", you can also visit the Gian statue "Buddhist Monk", rest at the "Tien" or "Tawaen Beach".
Koh Pha Ngan
The last one here on the list is a small island that's based in the southeastern part of Thailand not so far from Koh Samui. It offers beach bungalows and beautiful crystal clear beaches. One of its biggest tourist attractions is the double bay "Thong Nav Pan Not". It's also known for its famous beaches Ban Tai, Mae Haad, and Haad Rin. In Haad rin beach at night, you can partake in a one-of-a-kind "Full Moon Party" with other visitors from around the world. It is well known for the unique atmosphere in this special beach parties.

Leave a reply
Your email address will not be published. required fields are marked *