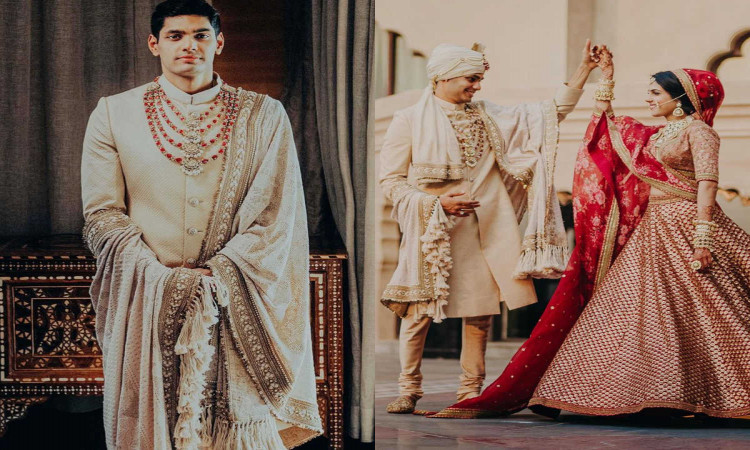 If your wedding is around the corner and you're juggling between wedding outfits, a designer wedding sherwani could be a perfect choice. Indian men's sherwani is back in vogue. You can style it the way you want to look dapper at your wedding. With that said, it's important to style it to perfection so that you stand out as a royal groom.
We've gathered some styling tips just in case you're overloaded with design options but confused about how to make a fashion statement.
Pair it up with the right bottom wear
When it comes to wedding sherwanis, grooms focus on the kurta or jacket that suffices their style requirement. However, it's good to pay attention to the bottom wear so that you get a wholesome ensemble that makes for a perfect wedding outfit. Choose slim pants, churidar, and leggings in place of a simple pajama. It's your wedding, and every detail needs to be perfect. Or, if you're in a mood to go all ethnic, wear a dhoti to accentuate your look.
Don a stylish turban
Some grooms like it simple, while others are ready to become fashion-forward when it comes to wedding attire. A stylish turban can make you look classic at your wedding. There's more - you can add to your turban look. An elegant brooch over a turban is all you need to make a dashing entry at your wedding. Try it out!
Wear a dupatta over your sherwani
To make a royal entry at your wedding, you need to dress up like a king. How about choosing a dupatta that compliments your wedding sherwani? Many fashion stores keep a designer collection of sherwanis with dupatta. You can find different colors and prints that can deck up your overall look.
Opt for an Indo-fusion look
If you're amongst the grooms who are not afraid of experimenting when it comes to fashion, try an indo-fusion look. English-inspired floral prints kurta with decorative buttons and side slits make for a great wedding outfit. You can also go for stylish collars, Italian fabric, and trousers with sherwani to up your style game.
Shun the traditional colors
It's your big day, and you wish to surprise the bride by looking like a royal king. How about experimenting with the colors? Shun those boring, simple colors that fade the charm away and choose neon and bright colors for your wedding sherwani. These days you can find sherwanis in pink, baby blue, peach, and mint green color.
Now you know how to slay your style game at your wedding. All you need to do is explore the market and buy the wedding sherwani that catches your eye instantly.

To ease out your shopping experience, you can visit the Readiprint Fashions online store and browse through a wide selection of wedding sherwanis.
Leave a reply
Your email address will not be published. required fields are marked *