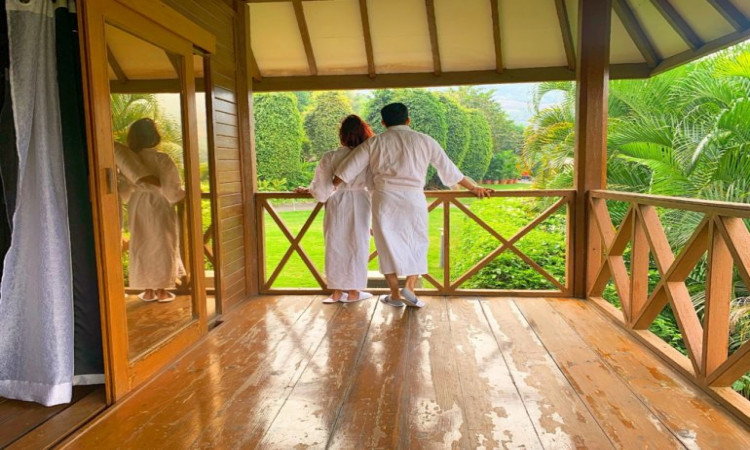 Lockdowns have been mostly lifted in 2021 in the wake of the pandemic. Leisure travel is on a boost so why not surprise your partner with a getaway trip this Valentine's Day? Travelling to new places is exciting and having adventures together can strengthen your bond as a couple. From visiting iconic landmarks to gorgeous natural landscapes, we have compiled a list of top 10 romantic places. So, without further ado start exploring!
1. Paris, France
Paris is the city of love which is why it obviously deserves top position on our list. The majestic monuments, historical architecture, and the present of art everywhere makes it worth sharing with you partner.
Paris is also one of the major fashion capitals in the world. So, you can even pick some unique Valentine's Day gifts for your significant other while there. The quaint and cozy cafes, scrumptious food, and beautiful views ensure a romantic holiday for you.
2. Venice, Italy
Venice is certainly glowing and undeniable in its beauty. Exploring the City of Water is an experience unlike any other. It has a hundred small islands which are linked by four hundred or more bridges. There are also canals weaving throughout the city which invite you for those iconic romantic gondola rides. Other than that the Campanile di San Marco tower provides an incredible 360-degree view of the whole of Venice.
3. Marrakech, Morocco
A popular city of the Kingdom of Morocco, Marrakech has enough charm and gorgeous settings for a perfect V-Day destination. The city is always a hot den of activities so there will not be a dull moment. Speaking of hot, a hot air balloon ride is the perfect way to make this year memorable. Ride the winds above the Atlas Mountains and marvel at how grand nature is. The rooftop restaurant in Nomad is also ideal to view the sunset together.
4. Bali, Indonesia
Bali is titled the Land of Gods which suits it well, being the abode for many age-old temples. It is a place you will love if you are an adventurous and thrill-seeking couple. Not to mention the variety of delicious local cuisines that will blow you away. The tropical beaches are pristine and a sight to behold. Trek together to Sekumpul or Tegenungan waterfall to view their lovely grandeur.
5. Buenos Aries, Argentina
Bueno Aries is one of the most romantic cities of the world. It is even called the Paris of South America. It is perfect for eating, dancing, and just plain having fun in a gorgeous setting. Take a brief Tango lesson to have a dance session with your love. Polo matches and horse racing can also be spectated if you are a fan of sports or just love horses. There is also a variety of food you can sample here. Everything from luscious desserts to spicy Indian food is available.
6. Cape Town, South Africa
Cape Town is the Mother City of South Africa. It is a perfect blend of delectable dishes, rich culture, and awe-inspiring beauty. The untouched natural landscape of this location makes it heavenly for Valentine's Day tourism. You can lounge on the magnificent beaches or go surfing on the blue waters. There are cable cars which can take you up Table Mountain to view the entire city.
7. Kyoto, Japan
Kyoto is the cultural hub of Japan and displays its rich cultural traditions in full form. The temples and shrines erected everywhere are a sight to behold. The classic beauty of this city will lend you peace and bring you closer together. The Arashiyama Bamboo Grove is ideal for a leisurely romantic stroll. Hiking can also be done up the hills that surround Kyoto on three sides. Evenings can be spent watching sunset from Kinkaku-ji Temple. Or watching the vibrant yet serene Geisha at Gion District's Pontocho Alley.
8. Prague, Czech Republic
The classic architecture of Prague is one of its biggest attractions. The Charles Bridge will be an ideal place to take a walk with your Valentine. You can even go for a cruise on the Vltava river or explore historical locations like the Mala Strana.
The Mind Maze is another totally unique experience you must not miss out on. To solve the challenge, you are locked in an Alchemist's Chamber and get 60 minutes to escape. Enjoy this brilliant activity with your partner and prove you can work as a team.
9. Charleston, USA
Charleston is small yet extremely charming a town. It has all that southern quaintness which guarantees a getaway which will leave you refreshed and stress-free. There are beautiful restaurants and mansions that overlook the water.
And you can wander around cobblestone roads for a walk. Enjoy a Jazz music concert as a couple at the Charleston Jazz Orchestra. Or visit the numerous beaches like Sullivan's Island, Folly Beach, or Isle of Palms.
10. Bruges, Belgium
And last on our list is Bruges which is also known as the "Venice of the North". The fabulous canal systems and boat rides has all the Venetian vibes you want for a perfect Valentine's date. If you are lovers of music, then attend the harp concert by Luc Vanlaere. The Lake of Love and Lover's Bridge are the spots you must visit with your partner on Valentine's Day.
These were all the ideal destinations one can travel to this Valentine's Day. Wherever you choose to go, remember that the bond you share is the most important thing of all. And if you're planning on keeping it simple without visiting a place, you can also gift your beloved an outfit like the Snoop Dogg Go Big Show Jacket, for instance. So, cherish your memories and make the most out of the time you spend together.
Leave a reply
Your email address will not be published. required fields are marked *