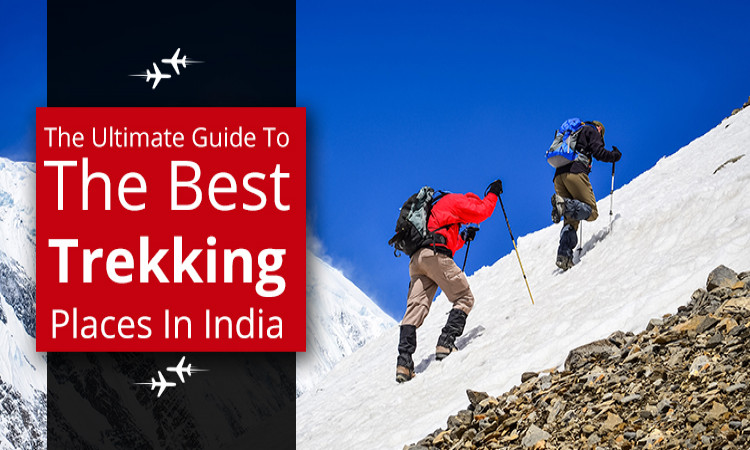 When you think about booking cheap flights to India, you think about the crowded cities and the stifling heat of India. However, that is not the entire truth about this exotic place. India has a great diversity in every sense of the word, and it can only be rivaled by a few. Traveling to India is a whole package where you can enjoy everything from the mountains to the stunning beaches. Once you choose to take a trip, you choose to dive headfirst into the diverse nature of the country.
There is no limit to the kind of things you can experience once you book flights to India. However, enjoying a trekking trip in India is one of the most amazing experiences you can have. Trekking in India will break all your prior ideas about the country. There are several wonderful trekking routes all over the country. Every part of this nation has something to offer you. The level of the treks here ranges from easy to difficult. So, people with all abilities have something they can enjoy. To give you a starting point, here are some of the best treks you can take in different parts of India when you plan your trip.
● Chandratal Lake Trek: Literally meaning the 'Lake of Moon', Chandratal is located in the Spiti Valley of Himachal Pradesh. This trek in the North of India is quite popular with tourists. People from all over India come here to enjoy the beauty, peace, and calm of this place. There are several beautiful villages that surround this area. So, you have much to explore apart from the lake. As this place has a difficult terrain and a harsh climate, it has managed to preserve itself. You will not encounter a lot of crowds here, and you will be able to enjoy your trip in relative calm.
● Buran Ghati Trek: this is another trek in the North of India. It is a difficult trek. So, beginners might struggle a bit here. But if you are a seasoned hiker, you will enjoy this one quite a bit. The stunning views that you witness on your way up will charm you. The villages that you see along the way are absolutely gorgeous, and the people are just as great. As this trek isn't as crowded either, you will be able to enjoy yourself with your friends and family without worrying about too many people.
● Kundremukh Trek: Located in the Western Ghats, this trek is of moderate difficulty. So, having some prior experience with hiking will be helpful. The wildlife that you get to discover along the way is brilliant. You can see everything from butterflies to birds and reptiles on your way. If you like to explore flora and fauna, then this trek is perfect for you. You will also get to see lush greenery on your way up, which means that the views will be a treat for both your eyes and your soul. This trekking spot is also relatively less crowded, so you can enjoy your time here.
● Perumal Trek: This trekking route in the south of India is a favorite among photographers. The best part about this trek is that you get to enjoy some picturesque views without tiring yourself too much. This is a relatively easy and quick hike that will take about four hours one way. You do not need to be an experienced hiker to enjoy this one. The breathtaking view of the Nilgiri Hills that you get from the top is worth all the walking and climbing. It is hands down one of the best places to visit in the South of India.
● Auden's Col: Located in the Garhwal area, Auden's col is not for the faint-hearted. This trek is incredibly difficult, and even the most seasoned hikers will have a tough time conquering this trek. Although this trek is super difficult, anyone who chooses to do it will be rewarded with the extreme beauty of the views here. The charming villages you will see along the way, and the thick forests will make your heart happy. This trek is considered the holy grail of treks by some. So, you must be prepared for the level of difficulty that is offered on this trekking route.
● Dudhsagar Trek: Known for its beautiful golden sand beaches, Goa has much more to offer. The Dudhsagar Trek is located in Goa, and you will have a great time here. The Dudhsagar waterfall located in Goa is a landmark of the state. The trekking route that you follow here will take you to the base of the waterfall. This place is a lot more than just the waterfall. This trek is relatively easy, and even beginners can do it easily. If you are looking to see and experience something different than just the beaches in Goa, then this is the place for you.
● Tadiandamol Peak Trek: This is a lesser-known trek in the state of Karnataka, that offers you a stunning spot for an adventure. Tadiandamol is a spectacular top in Coorg, that will give you a stunning view of the surrounding areas. This trek takes about a day to complete and is perfect for those in the city. This trek is also relatively easy, which makes it possible for beginner hikers to complete it. If you are just starting out and want to see some awe-inspiring views, then this is just the trek for you.
These treks offer you an adrenaline rush and a wealth of beauty. The picturesque views that you will get to enjoy on your way will make all the effort you put into climbing worth it. When you fly to India, going on at least one trek is a must. Trekking trips in India will give you the opportunity to explore the hidden beauty in the different parts of the country. So, get your cheap India flights as soon as you can and get ready to go on an adventure.
Leave a reply
Your email address will not be published. required fields are marked *