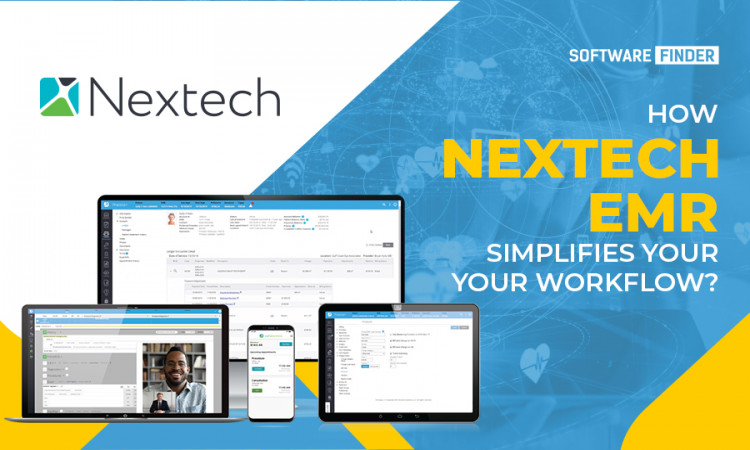 Nextech EMR Software
The Nextech EMR Software serves multiple medical specialties, including Ophthalmology, Plastic surgery, Dermatology, and Orthopedics. In addition, you can choose from an integrated suite that includes an electronic medical record, a practice management system, revenue cycle management, and patient engagement.
In addition to that, you can check appointments, see patient profiles, and retrieve all EMR information from anywhere using the web-based Nextech EMR mobile app. The iPad software is designed to mimic the look and feel of a paper charting system, with patient photos for personalization and the ability for you to scribble directly on images and graphics.
Top Features of Nextech EMR Software
In this article, we'll discuss Nextech EMR and its top features that will assist you in determining whether the software will meet your requirements and help you simplify your workflow. Here are the top features of Nextech EMR Software.
Artificial Intelligence
The artificial intelligence functionality in Nextech EMR software is the first feature we'd like to address. As the software can analyze your habits, this function helps you to adjust to the software quickly.
Once the software has a handle on your preferences and requirements, it will automatically recommend these options to you the next time you use it, making everything much easier for you. Overall, It's critical to have software that adapts to your demands since it makes your whole experience much more pleasant.


Lab Integration
Another fantastic feature of Nextech EMR is lab integration. You can use this option to order tests for your patients via the software automatically. In addition, the Nextech EMR software also automatically obtains patient lab reports from the lab. Overall, the integration function helps you save time by making all of the data you need to instantly make a diagnosis available to you.


Patient Charting
Another significant feature of Nextech EMR is the patient charting tool. This feature makes things even easier for you. The software allows you to select a template and customize it to suit you and your specific requirements. In addition, since the template is tailored to your particular needs, the software allows you to chart data much more quickly! Overall it's critical to have an easy-to-use template that satisfies your expectations.


Claims Management
Denied claims have the most significant financial impact on many medical facilities. The Nextech EMR Software recognizes this concern and provides claim management capabilities that are both efficient and automated. From claim initiation to follow-up to ultimate payment, the system assists a facility at every step of the claim management process.
In addition, to make the procedure more accessible, the e-eligibility tool automatically checks claims. Primary, secondary, and workers' compensation claims are all sent using the medical program. Automatic posting, changes, and refunds are also possible with the system. You also save time as a result of this, allowing yourself to focus entirely on giving care.


Engaging Patient Portal
The Nextech EMR offers a patient portal that patients can use to update their personal information and demographics. Another advantage of the Nextech patient portal is that the patients can access their comprehensive medical records from the luxury of their homes. In addition, patients may make appointments, receive virtual consultations, and connect directly with their doctors via an easy-to-use mobile application.
The technology, as well as the patient portal, complies with HIPAA regulations. In addition, all data uploaded and communications exchanged are encrypted, ensuring that no data is lost due to security flaws.


Streamlined Appointment Scheduling
This feature allows users to efficiently plan and modify appointments using the drag and drop technique. When you book an appointment, the first available appointment finder is a search box that promptly delivers a time slot. As a result, you and your patients save time. In addition, to avoid no-shows and latecomers, electronic notifications are also sent out beforehand to appointments.
Nextech EMR Pricing
The software's provider does not publish the pricing of the software and only provides it upon request. Therefore, you have to contact the vendor through the company's website to get a quote.
However, according to various reviews, Nextech EMR software has a reasonable price. It costs the same as any other EMR program, with a per-user cost of more than $100.
Nextech EMR Reviews
It would be best to read software reviews from different websites online before directly acquiring the EMR software. Nextech EMR reviews are available on multiple sources online. You can read them to know what current users perceive regarding the EMR Software.
Pros
The software streamlines most of your work by customizing it according to your needs and preferences.
You can easily access patient records.
The patient portal is beneficial for you and your patients.
The software digitizes everything and eliminates the use of paper documents.
Cons
The customer support is a bit slow and makes you wait to get your queries solved.
Concluding Thought About Nextech EMR Software
Now, if you ask us whether you should purchase Nextech EMR, we must tell you we can't answer this question without fully understanding your practice and needs. So instead, we can assist you in making an informed decision regarding the EMR Software.
The first step is to read as many Nextech EMR reviews as possible to see what users have to say about it and whether or not they would suggest it to you. This is an excellent approach to learn about the product because users can give you a good indication of what to assume.
You should also compare Nextech EMR's features to the definitive list of features you'd want in an EMR software, as this may help you determine whether Nextech EMR is the perfect option to create for you.
Finally, we strongly advise you to request a Nextech EMR demo before purchasing the software since seeing the product in action will help you assess whether or not it is right for you and your needs. Good Luck!
.
Leave a reply
Your email address will not be published. required fields are marked *