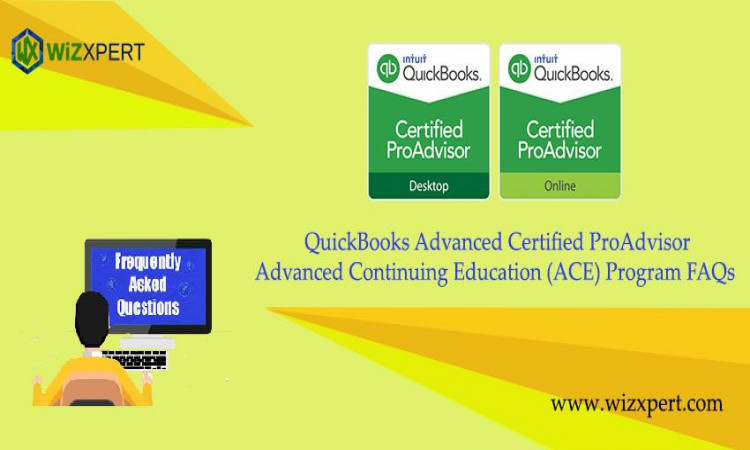 A QuickBooks ProAdvisor is someone who has joined the QuickBooks ProAdvisor program and completed a certification test and is knowledgeable with the QuickBooks product line. QuickBooks Desktop Pro/Premier, QuickBooks Online, QuickBooks POS, and QuickBooks Enterprise Solutions are the four main certifications. All of the training tools, including self-guided modules, webinars, and live course choices, are entirely free to become a QuickBooks Online ProAdvisor.

Your ProAdvisor credential indicates a better understanding of the software by enrolling in the QuickBooks ProAdvisor program and passing the test. It can assist you to advance your financial consulting business and gain client confidence as well as access to a network of future clients. It will also boost your efficiency and, as a result, your practice's success.
To take the certification test, you don't need any prior experience in accounting or bookkeeping, nor do you require any academic education. To become a certified QuickBooks Online ProAdvisor, you must pass an 81-question exam with an 80 percent or higher passing score. To prepare for the test, most people should budget at least 12 to 16 hours of study time. If you don't pass the first time, you can retake the test up to three times.
You can choose to get certified in QuickBooks Online, QuickBooks Desktop, or both, depending on your clients' needs. While QuickBooks Online is ideal for businesses with many users or who require remote access, QuickBooks Desktop allows you to manage multiple businesses. The QuickBooks Desktop Premier Contractors Edition is also adaptable enough to meet the demands of farmers and ranchers as well as construction firms.
The five stages to becoming a certified QuickBooks Online ProAdvisor are as follows.
1. Create an account using QuickBooks Online Accountant.
You'll get a free QuickBooks Online Accountant membership when you sign up, which you may use for your personal bookkeeping as well as accessing your customers' QuickBooks Online accounts. From inside QuickBooks Online Accountant, you can manage your ProAdvisor account and certification.
To create a free QuickBooks Online Accountant account, the first step is to enter some basic information. You'll be prompted to give the following information:
Email address (user ID)
First name
Last name
Phone number
You'll need to use the same password if you've previously used your email account for any Intuit product, such as QuickBooks or TurboTax. If you've never used an Intuit product before, you'll be prompted to establish a new password. There is no need to provide a credit card number or any other sensitive information.
2. Study for the ProAdvisor Certification Exam in QuickBooks.
You get free access to all study materials, webinars (live and recorded), and tests after you create your QuickBooks Online Accountant account. To pass this test, you must prepare as you would for any other. To begin the training, go to the ProAdvisor link in your QuickBooks Online Accountant screen's left menu bar and select the Training option. You can discover courses for all of the QuickBooks products here, which will help you prepare for the certification tests. If you're new to QuickBooks, the Introduction to QuickBooks Online for Accountants course is a fantastic place to start.
You'll need a basic comprehension of fundamental accounting principles as well as familiarity with the QuickBooks Online Accountant system to pass the test. Although the training course prepares you for both, it is not required. If you already know this information, you may go on to the test and get your certification. You can earn continuing professional education (CPE) credits while studying for the certification test, which is required to keep your certified public accountant (CPA) license current.
You are not required to complete all of the modules in a single sitting. The system remembers where you left off at the conclusion of a session, allowing you to resume where you left off later. These courses aren't necessary for certification, but they're extremely useful if you've never used QuickBooks Online before.
Accountants can use QuickBooks Online.
The Introduction to QuickBooks Online Accountant course is made up of seven learning modules that take around five hours to complete and provide four CPE credits. The QuickBooks Online for Accountants course covers the following topics:
How to Begin Using QuickBooks Online Accountant: Sign up for QuickBooks Online Accountant and learn about the dashboard and navigation toolbar's major features.
Your client's QuickBooks Online: Learn how to browse your client's QuickBooks Online and get an introduction to processes.
Customers and sales: Add customers, product sales receipts, create online invoices, and record accepted payments.
Costs and vendors: Get an overview of the Expense and Vendor processes, as well as the Expenses center, and learn how to record expenses, as well as input and pay invoices.
Learn how to leverage bank feeds and how to create best-practice bank feed processes.
Review the Chart of Accounts and Products and Services list, which serves as the foundation for producing basic reports.
Adding clients to QuickBooks Online Accountant: Examine the different subscription tiers and techniques to add a client to QuickBooks Online Accountant.
Certification for QuickBooks Online
The QuickBooks Online course is made up of eight learning modules that take around 12.5 hours to complete and provide 9.5 CPE credits. The QuickBooks Pro Online course covers the following topics:
Understanding your customers' needs to advise them on the best QuickBooks Online subscription option, learning how to set up a QuickBooks Online account, and discussing billing features with clients are all examples of QuickBooks Online solutions for clients.
Select the appropriate company settings, establish new customers and vendors, set up bank feeds, construct the chart of accounts, and more during client onboarding.
Additional client onboarding tasks: Discover how to administer applications on behalf of your client, execute a basic sales tax setup, adjust payment settings and sales forms, and more.
Managing your clients and work: Learn about the practice management features in QuickBooks Online Accountant, set up projects, and track them for QuickBooks and non-QuickBooks clients
Use tools like undeposited money, estimations, purchase orders, vendor credits, and more to help your small company clients.
Connect bank and credit card accounts to QuickBooks, reconcile bank accounts, set up regular transactions, track receipts and payments, and more.
Edit, edit, and run reports such as profit and loss statements, balance sheets, and sales and expense reports.
Prepare a client's books for the year-end close by closing the accounting cycle.
Advanced QuickBooks Online Certification
3. Pass the QuickBooks Certification Examination
As seen in the picture above, you can access the QuickBooks certification tests by clicking on Taking the Exam in the upper-right corner of the QuickBooks Online Certification list of courses. The test, which includes a total of 81 questions divided into six sections, is free to take. All six parts should take around three and a half hours to finish.
You can check your answers for a specific area during the exam before finalizing the submission. Each section's test, on the other hand, must be completed in one sitting. To receive your certification, you must properly answer at least 80% of the questions in each area. To pass the exam, you have three chances. If you fail the test three times, you will have to wait 60 days to take it again.
This is an open-book test, so make sure your study guide is open to the part you're taking. QuickBooks should also be open so that you may quickly access it if necessary.
4. Fill out your ProAdvisor profile completely.
Make a point of finishing your profile as soon as feasible. Your profile contains your qualification badges, an "about me" section, the number of years you've been in the company, the services you provide, any sectors you've worked in, and your social network links. A sample QuickBooks ProAdvisor program profile may be seen here.
Leave a reply
Your email address will not be published. required fields are marked *