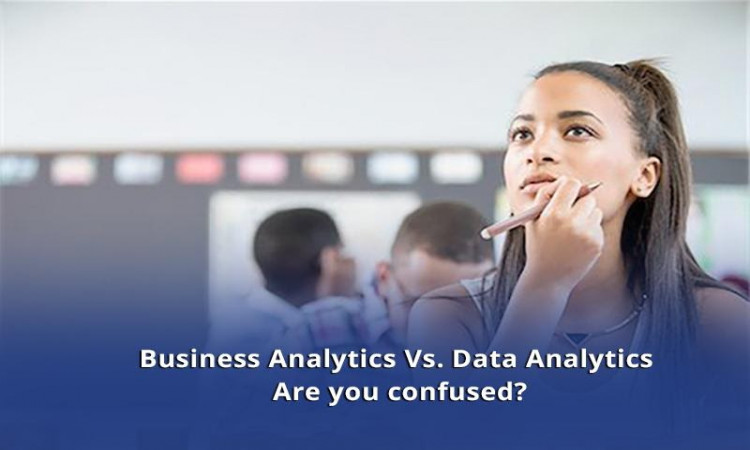 When it comes to university education and choosing programs, students often get confused while comparing degrees of business analytics and data analytics, thinking both are the same. Both these programs revolve around numbers and data, and their roles may be interchangeable, but the core is very different.
At first glance, both the degrees seem similar, but these are two very separate branches of study and for a good reason. Data analytics deals with the analysis of datasets while business analytics is focused on the analysis of various types of information, including insights drawn from data analytics results.
Key Differences Between Business Analytics vs. Data Analytics
Are you a student who wishes to pursue a degree in business analytics or data analytics and are confused? Don't worry, as, in this article, we are going to discuss these analytics areas in detail so you can have a clear picture of these fields of study.
Business Analytics
In the field of Business Analytics experts use data and other information to make practical business decisions for an organization. The main focus of this field is in problem-solving and improving effectiveness by using multiple strategies and data-driven results. These experts work on the frontline of data analytics and create business models.
This field of study is excellent for people who want to combine both business and IT and is suitable for students coming from backgrounds of business, management, computing, and IT. Many universities offer hands-on experience to their students, so make sure to get in touch with an education consultant to find the best universities and programs for you.
What are the Duties of a Business Analyst?
Responsibilities and duties of a business analyst may differ from industry to industry; however, some of the basic responsibilities include analyzing data and market information, and device business strategies that increase overall revenue and efficiency of the business.
Following are some of the distinguished responsibilities of a business analyst:
To implement new strategies to improve business efficiency and address critical issues.
To collect business data and suggest new areas for business growth and increased ROI.
To work with third-parties and teams to resolve business issues and maintain a constant revenue stream.
To prepare strategic recommendations for business performance improvement.
To have a firm understanding of organizational objectives and identify weak areas and propose solutions.
Data Analytics
In Data Analytics professionals collect, process, and analyze data and gain insights that can help an organization improve its efficiency and solve various problems. It is the use of available data and makes deductions for business with soundproof. Data analytics also involves data mining, statistics, designing programs and software, fixing bugs and issues, data processing, and collection.
Data analytics is closely related to Computing and IT and is an emerging field in this digital age of cryptocurrencies and blockchains. Hence, we suggest getting in touch with education consultants in Islamabad to find the best program for you to build your career path.
What are the Duties of a Data Analyst?
Although a degree in Data Analytics equips the student with multiple career options in the future and it differs based on the individual organization and industry. However, the following are some of the core responsibilities of a Data analyst professional.
To gather and conduct consumer data analysis and research.
To mine data from data warehouses through SQL.
To work with and develop new customer-centric business algorithms depending upon business needs.
To extract useful insights and trends from large databases.
To perform continuous quantitative analysis and ad hoc to make sure every business decision is risk proof and successful.
To manage and help in data visualization by transforming it into metrics and graphical representations.
To use data to generate financial reports and KPI's (Key Performance Indicators).
Career Outlook
According to the PwC report, the projection for 2020 suggested 2.7 million jobs for data analysts. As for the salary, according to Glassdoor, the average salary of professionals in data analysis is around $84,000 per annum.
As for the field of business analysis, the projected employment growth is 19% in the next ten years. As for the salary, according to Glassdoor, the average salary of professionals in the field of business analysis is $78,000/ year.
Business vs. Data Analytics – Know the Difference!
These are some of the key differences between data analysis and business analysis. We hope this post has helped you clear any misunderstanding regarding these programs. If you are thinking which one is better for you, consult an education expert who can help you walk through the right career path based on your skills, educational background, and career goals.
Apply in these emerging fields and enjoy vast career opportunities. Good Luck!
Leave a reply
Your email address will not be published. required fields are marked *