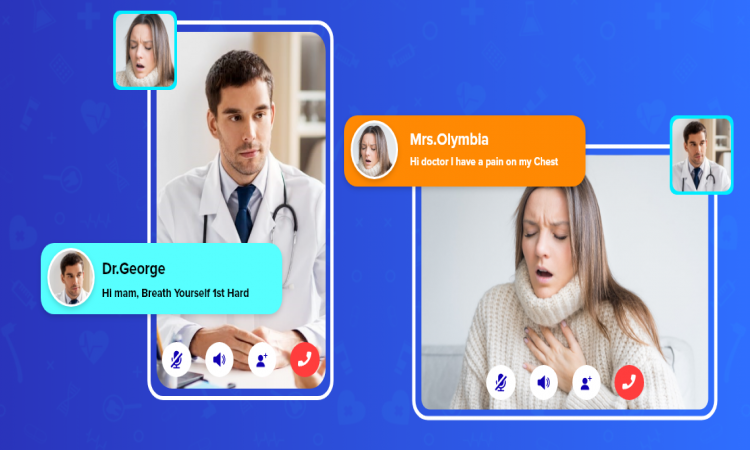 Introduction
Chat APIs are revolutionizing business communications. Ever since the pandemic broke, every company and every industry is on a look-out for a perfect communications solution for their operations, especially the healthcare industry. Chat APIs make it possible to integrate messaging into any mobile applications and websites. With the need for social distancing, demand for remote doctor consultations and healthcare apps for patients increased further. For healthcare industry, having a chat API necessitates it to be HIPAA compliant in order to safeguard patient privacy and personal data by HIPAA law. In this article we will ponder upon HIPAA compliant chat APIs.
What Is HIPAA?
HIPAA or Health Insurance Portability and Accountability Act of 1966 is a federal law and set of rules to protect personal healthcare information that patients share with their doctors. Sometimes the patient shares information in confidence, from external exposure to outside entities. HIPAA was laid down to:
Protect personally identifiable information
Modernize healthcare information flow and
Counter the limitations on healthcare insurance coverage.
All the medical records created, used, or disclosed during the course of providing a health care services comes under the purview of HIPAA. This includes diagnosis and medical bills also because it can be used to identify an individual. Digital Health applications that collect, store, use or share protected health information needs to be HIPAA compliant.
Who Must Comply With HIPAA Privacy Regulations?
As directed by HIPAA, 'covered entities' are required to follow its regulations. Covered entities include:
Healthcare providers (like doctors, clinics, hospitals, nursing homes, pharmacies), healthcare cleaning houses and health plans.
The third party business associates who use, access or manage protected health information to perform services for a covered entity also come under this scope. Such business partners may be the ones who offer management services, data processing services, pharmacy benefits managers, and IT companies that offer solutions like chat services, patient entry forms, and telemedicine etc.
 What Are the Regulations Addressed In HIPAA Law?
HIPAA regulations are divided into 7 standards or rules which are:
Privacy Rule - This rule makes it mandatory to protect and preserve privacy of all "individually-identifiable" health information. It lays down complex rules and requirements for how PHI in any form should be controlled.
Security Rule – It dictates security of electronic medical records (EMR). It speaks about the technical aspects of protecting electronic health information. More specifically, it gives directions on administrative security, physical security and technical security of data access.
HIPAA Transactions and Code Set Rule (TCS) - This set of rules mandates using preset transaction standards and codes for communications and transactions in the health-care industry.
HIPAA Unique Identifiers Rule – With this rule HIPPA requires to have unique identifiers for HIPAA transactions to promote standardization, efficiency and consistency.
HIPAA Enforcement Rule – Derived from the HITECH Act, this rule expands the purview of the HIPAA Privacy and Security Rules, increasing the reach and penalties for HIPAA violations.
HIPAA Breach Notification Rule (BNR) – It specifies that establishments have to notify patients/individuals etc. of PHI data breaches within 60 days.
HIPAA Final Omnibus Rule –It strengthens and simplifies the provisions of HIPAA Privacy, Security, Enforcement, and Breach Rules.
How To Choose HIPAA Compliant Chat API
HIPAA compliant messaging apps ensure that a patient's information is always protected. Not all chat apps are appropriate for healthcare chat api industry. So, if you are careful about your responsibility towards HIPAA compliance, you would want to work with a provider who can support your regulatory needs. Here are a few factors to reflect upon, when you are deciding upon whom to partner with, for your communication solutions.
Provider Who Will Sign a Business Associate Agreement (BAA) Is a Fitting Partner
HIPAA Privacy Rule mandates its 'covered entities' to get assurance from its business associates that PHI received by them will remain safe in their hands. This can be assured through a Business Associate Agreement (BAA). Since every chat API provider is not receptive of signing this agreement, always put this probe before entering the deal. Signing a BAA agreement gets you peace of mind and is also a promise that your provider has a complete knowledge of HIPAA compliance rules and experience. When they enter this accountability they are acknowledging their answerability and reflect that they are confident about supporting HIPAA compliance.
Provider Whose API can be hosted on a HIPAA Compliant Cloud Is a Fitting Partner
A lot of chat API software providers have limited software deployment options. In this case, you may have to host your application and chat conversation on their dedicated cloud platform. But remember that storing digital data has integral security risks, and threats to information. Cloud computing solutions can only be effective against hacking, cyberattacks, and malwares when the company stays at a cutting edge of antivirus technology and internet security. Therefore PHI can only be kept secure by adhering to HIPAA guidelines.
In such case it is important for you to know that if their cloud platform provides a HIPAA compliant chat app service? This is why you need a chat service provider who uses a HIPAA compliant cloud. Having selected the right cloud service will save you time and worry because they will take care of HIPAA compliance hosting needs. This is quite a reassurance for the safety, integrity, confidentiality, and accessibility of health information.
 Get Started With a Provider Who Can Ensure HIPAA Security Safeguards
The healthcare Chat application that you decide must be designed to create necessary level of security, guided by HIPAA regulations. Some safeguards are particularly necessary to those building and providing telemedicine apps. According to HIPAA recommendations, some cases require more technical security features to safeguard PHI data. This can be achieved through a series of access controls that can limit the admission to PHI and audit controls. The access may be required to log and monitor people's activities within systems that have PHI, to ensure secure data transmission, data integrity, and for user authentications.
 A Provider Who Proposes a Customizable HIPAA Compliant Healthcare API Is a Fitting Partner
Large healthcare enterprises easily find resources to employ in-house cloud developers to develop variety of mobile and cloud-based applications for them. They require these digital health apps to schedule and monitor clinical trials, for online patient portals, health insurance exchanges, track medical devices etc. On the other hand small enterprises lack resources to develop their own applications. Best solution for them would be a fully outsourced custom app development service. Your chat APIs should be able to translate the requirements into efficient, easy to use applications. You can be rest assured that the dedicated project managers, developers will keep up with HIPAA guidelines. They will maintain BAAs, have the data fully encrypted, and do upgrades and patches according to entire HIPAA framework. With the going changes in healthcare industry and demand for custom HIPAA-compliant process automation, a rapid development program is a must. And if you want to save time and resources building these in your app, you may prefer to choose a ready solution with HIPAA compliance.
Benefits of Using CONTUS MirrorFly HIPAA Compliant Chat API
CONTUD MirrorFly is an excellent self-hosted chat API solution that has a power-packed message building platform. In healthcare industry, MirrorFly connects more than 1 million patients, medical professionals and doctors through their chat solution. MirrorFly API helps you build best HIPAA compliant messaging app for remote healthcare infrastructure. It syncs well with healthcare services with features like 1-1 chat, video conferencing, health reports and telemedicine etc. Here are a few important paybacks you get when collaborating with MirrorFly.
Enterprise grade HIPAA security standards: MirrorFly is completely compatible to HIPAA guidelines, ensuring safety of PHI. It safeguards strongly against data exposure and guarantees complete privacy configuration through end-to-end encryption. It uses multi-layers of protection and security.
Industry relevant features: Easy 1-to-1 Doctor-patient Texting, real-time notifications for next appointment, doctor live chat, secure messaging/media transmission, view receipts, global tracking of patient records are a few significant features that can be leveraged in providing healthcare services.
Full customization: It allows you to build your own customizable chat app that is HIPAA compatible. Whether for iOS, Android & web app, it can be fully customized according to the changes in your healthcare industry.
Highly Scalable video chat: Get high quality HIPAA compliant live chat experience and connect with unlimited patients and doctors in a single video chat irrespective of the kind of device used.
White Label Video Solution: Flexibility to white label your brand logo, color, and custom features with MirrorFly platform.
Effective costing: Healthcare companies and patients both save more money from reduced printing reports, and fax machines.
Open the Road To Secure Communications With HIPAA Compliant Messaging Platform

Appropriately chosen HIPAA compliant app can fetch you not just peace of mind but a better service infrastructure, along with enhanced productivity in business. Manage your communications effectively with a right communications partner. It gives you safe and penalty-free communication systems. We expect that this article has helped you find the most suitable HIPAA compliant chat API and SDK for your operations. 
Leave a reply
Your email address will not be published. required fields are marked *