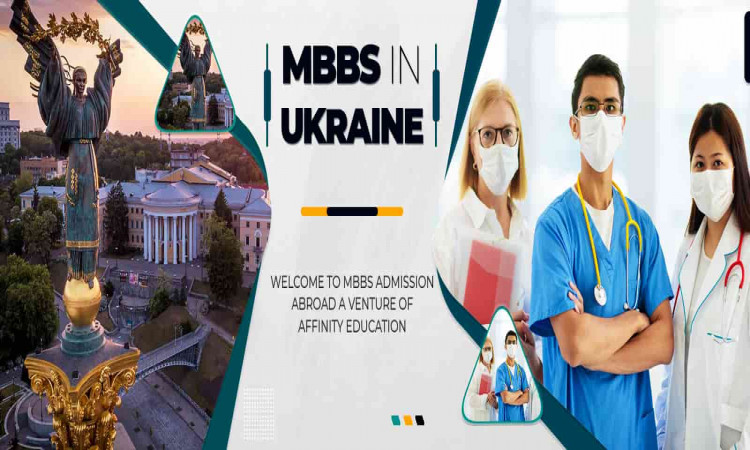 It's not hidden from anyone that the number of medical aspirants in India far outnumbers the number of seats available in the government and private medical colleges combined. For this particular reason, MBBS abroad is the go-to option for many students. MBBS in Ukraine is one such prospect that students go for.
This post tries to cover all the important aspects that those seeking admission into any medical college in Ukraine need to keep in mind.
Top Medical Colleges in Ukraine
First and foremost, it's important to shortlist the universities, which this post tries to help in. Mentioned below are the most commonly sought-after universities along with their MBBS in Ukraine fees.
Kharkiv National Medical University = INR 25-26 Lakh
Kyiv Medical University = INR 21-22 Lakh
Taras Shevchenko National University = INR 25-26 Lakh
Bogomolets National Medical University = INR 25-26 Lakh
Dnipropetrovsk State Medical University = INR 21-22 Lakh
Lviv National Medical University = INR 26-27 Lakh
Vinnitsa National Medical university = INR 26-27 Lakh
It's also important to note that all these universities that have been mentioned here, have been approved by bodies like the WHO, NMC/MCI, and other popular medical bodies of the world. This is the reason why students who pass out from here can appear for licentiate exams like the USMLE of the USA, PLAB of the UK, and the FMGE of India(soon-to-be NEXT Exam).
Why Take Admission for MBBS in Ukraine?
Choosing the university is one thing, but none of it counts as long as the students don't have the reason and motivation to pursue MBBS in Ukraine. This can only be possible if the quality of services in the universities and the overall stay of the students in Ukraine is guaranteed to be decent enough.
Students will be guaranteed an overall great environment both in and out of the campus as Ukraine is one of the most educated countries in the world. With a 99% literacy rate, the people here are broad-minded, accepting, and overall warm.
Not just the life in Ukraine, but the admission process into universities here too is easy and hassle-free. Students need not go through a rigorous entrance exam and proficiency tests like IELTS/TOEFL.
Instead, all they need to have is a NEET Exam scorecard (proving that s/he has appeared for the test) and a minimum score of 50% (40% fr the reserved) in their 10+2. Physics, Chemistry, and Biology should be the main subjects.
Talking of the admission, students also don't need to deposit any donations or capitation amounts at the time of admission, unlike Indian universities. The only payments they need to think of is the MBBS in Ukraine fees
Ukrainian universities ensure that their curriculum is not just up to the globally accepted standards, but also that it incorporates both the theoretical and practical aspects.
Thus, students pursuing MBBS in Ukraine are given ample time to learn the concepts in class as well as tst that knowledge through lab applications. Add to this the low teacher-student ratio, and studying in Ukraine becomes an enriching and pleasant experience for the students.
Although universities in Ukraine provide some of the most spacious and well-furnished dormitories, there are a number of cheap and decent accommodations outside the campus, which are easily accessible to the campus, essential services, and public transportation.
In fact, Ukraine is one of the few countries where universities provide separate hostels for boys and girls.
Look Out for These!
Before starting the process for MBBS in Ukraine, there are certain important pointers to keep in mind. One could consider these to be important precautions and checklists that students compulsorily need to keep in mind so that they face the least possible obstacles/hiccups during their application and admission process.
The validity of the passports of students should be not less than 2 years.
Make sure that the student has taken all the requisite medical tests (HIV and Covid-19, and any other as prescribed by university) and has certificates as proof.
Students need to have the basic knowledge of English as universities here follow the english-language medium.
Make sure that students carry extra cash handy, as the daily expenses would require it.
Students are required to communicate each and every detail and development to the university as it's according to these that the latter will make all the necessary arrangements possible.
This is not an exhaustive list and students can add more to it. But these points are paramount and need to be duly followed by the students, if they seek a decent stay during their medical degree course.
All in all, if we look at the prospect that is MBBS in Ukraine, students can be assured of the fact that universities here will uphold both quality and affordability in terms of practical and theoretical education.
This post attempts to provide the relevant data as well as suggestions to the students who are seeking to pursue their higher education here. This is all that one needs to know before starting their application process.
Leave a reply
Your email address will not be published. required fields are marked *