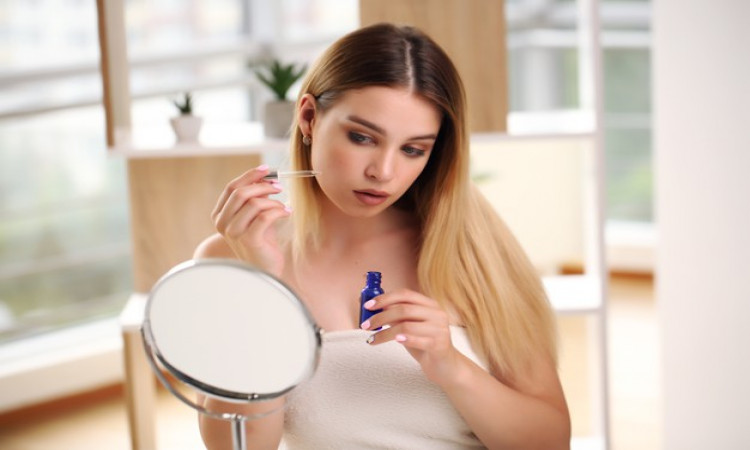 Historically, toners had always been that extra step in your skincare routine that one could usually do without. The early formulations tended to be alcohol-based and used as mere stingy, unpleasant astringents to maintain the pH of your skin. However, in the context of modern skincare, toners have completely evolved into a new, essential step without which your skincare routine is grossly incomplete.
The new breed of alcohol-free, natural skin toners doesn't sting or burn or dry up your skin but rather, aid in removing the leftover grime that remains after cleansing, thereby shrinking the appearance of pores on your skin. A good natural toner also preps your skin for subsequent products like serum and moisturizers and helps them penetrate better by removing blockages and unclogging your pores. Toning is particularly important for those with oily, acne-prone skin as there is significant oil build-up to combat. Today's natural toners also come with additional specific ingredients to help treat major skin concerns such as dryness, pigmentation, signs of aging, among many others. In this article, you'll read about the benefits of using a toner and how to choose the best toner for the face, according to your skin type and concerns.
Benefits & usage
Why should you use a natural skin toner?
Apart from having a refreshing calming effect, toner helps in a more thorough cleansing of your face by removing any impurities that might have been left out by your face wash or cleanser. By doing so, cleans out and unclogs your pores so that products like serums and moisturizers can get deeper into your skin. This helps your skin retain its moisture more effectively and for a longer period. Toner also makes your skin firmer by tightening your pores and reducing the visibility of open pores. Lastly, toners also protect your skin from environmental factors by disallowing the entry of dirt and impurities into your pores.
How to use a natural skin toner?
The easiest way to apply toner evenly is by soaking a cotton pad with your toner and swipe it across your face. You can also do this by taking some product on your palm and dabbing it uniformly. These days, a lot of toners come in spray bottles that can be simply applied like mists.
Should you use a toner every day?
The ideal frequency depends on how sensitive your skin is and how gentle your toner's formula is. Most natural toners can be used twice a day, day and night, after cleansing your face and before moisturizing. Be sure to use an alcohol-free, natural skin toner for sensitive skin in case you have dry or damaged skin that gets irritated easily. In the case of potent formulas and sensitive skin, stick to using a toner once every day or once every other day.
Toner for oily skin
What is the best natural toner for oily skin?
You'll find plenty of natural toning agents in your kitchen and refrigerator! Try using apple cider vinegar, mint water, aloe vera juice, cucumber water, lemon juice, and chamomile or green tea in place of a market-bought toner as an effective natural toner for oily skin.
Is Rosewater a good toner for oily skin?
Rosewater is a great toner for all types of skin. For dry skin, it helps as a natural hydrating agent that keeps the skin nourished and moisturized. For oily skin, the rosewater's astringent properties are highly beneficial to fight oil build up and maintain the pH of your skin. By preventing the buildup of excess oil (without drying your skin), rosewater can play a pivotal role in keeping blackheads, whiteheads, and acne at bay.
Choosing the best toner for face
Picking the right beauty product is majorly about being aware of its ingredients. When it comes to natural skin toner, look for these ingredients according to the skin goal you wish to achieve: rosewater for hydrating your skin, aloe vera if you have irritated or inflamed skin, tea tree extracts to protect against acne and oil build-up, herbs like chamomile, lavender and vetiver for a lasting soothing effect, green tea for even skin tone, and neem to fight bacteria and prevent acne.
What is the best natural toner for the face?
You can find much ayurvedic skin toner online that is completely natural and have zero side effects on your skin. Here are some of the best examples:
Forest Essentials Facial Toner Panchpushp
As the name suggests, this gentle formulation is a blend of five ayurvedic fruit and floral extracts like mogra and marigold, used in their purest, distilled forms. Together these herbs help in hydrating the face and leaving it with a lingering cooling effect.
Kama Ayurveda Pure Rosewater
Having the reputation as one of the best natural toners, this pure rose water made from the roses of the famed Kannauj region is one product you can trust blindly. Its hydrating, pH-balancing formula makes it a great toner for sensitive skin.
Just Herbs Pomegranate Mandarin Pore Refining Tonique
Made using extracts of mandarin and pomegranate, this ayurvedic skin toner helps in loosening and minimizing pores. Additionally, orange peel and bitter orange essential oil also lend antimicrobial properties to this product.
Neemli Naturals Witch Hazel & Vetiver Pore Refining Facial Toner
Witch Hazel is known to shrink pores and treat inflammation, while also fighting signs of aging and give your skin a youthful radiance. Vetiver and aloe vera extracts further help in calming and rejuvenating the skin, particularly helping dull and dry skin to get back its natural glow.
Sukin Hydrating Mist Toner
Combining the soothing powers of rose and chamomile, this hydrating mist instantly lifts and brightens up tired skin. Refrigerate the mist for a more cooling effect and it will just take one gentle spritz on your face and neck to get a fresh, dewy look in a jiffy.
Now that you know the benefits and proper way to use a toner, simply order a suitable ayurvedic skin toner online and include it in your skincare regime ASAP!
Leave a reply
Your email address will not be published. required fields are marked *