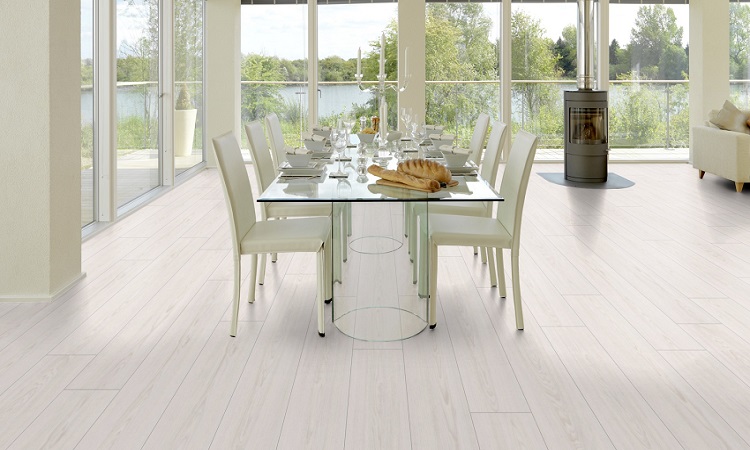 Vinyl flooring is known for its versatility, durability, and affordability. With its ability to transform any interior setting, be it commercial or residential, luxury vinyl flooring beautifully mimics wood and stone with endless styles and colours to choose from.
Click vinyl flooring comes in a wide variety of options and has a wide range of benefits ranging from being waterproof, durable, easy to install and some are even recyclable and reusable.
Once you have decided that a click vinyl flooring is the right choice for your space, you'll then need to choose between WPC or SPC click vinyl flooring. Not sure what the difference is? Read on!
Types of Vinyl Flooring
There are two types of click vinyl flooring to choose from - Wood Plastic Composite (WPC) and Stone Plastic Composite (SPC). Which you pick will depend on your practical and style needs for your space, plus your budget.
So, what is the difference? Really, it is in the composition – but both options offer all the same benefits of engineered vinyl.
Products will differ between brands and it is important you understand the construction and dimensions of the individual layers and what they contribute to the overall product to enable you to choose the right flooring solution for your space.
WPC Vinyl Flooring
WPC vinyl flooring is the premium click vinyl flooring option. Made up of multiple layers, the core composite layer is made of wood plastic, an extremely robust material normally including calcium carbonate, wood powder or any wood like material, foaming agent and plasticizer. It is 100% waterproof and provides the core stability of the boards.
It normally has a higher number of different layers to SPC, but different brands will have a different construction of plank. The depth of the WPC core and also the wear layer are particularly important to consider. Always choose the thickest overall WPC vinyl flooring as this will provide the best benefits in terms of durability, stability, and sound insulation. Ensure there is a high-quality built-in underlay for ease of installation and check the product is recyclable and reusable.
SPC is essentially the value option. It offers similar durability and quality to its sibling WPC but is generally constructed from less layers and the central core is Stone Plastic (Polymer) Composite, which normally includes calcium carbonate, PVC and plasticizer. Compared to WPC, it has more stone element in the form of calcium carbonate, also called limestone, making it a cheaper board but also heavier and colder underfoot.
As with WPC, the flooring composition does vary between brand and you should always check the different layers of material included and the thickness overall to make sure you are still getting the best product for your space. Generally, the boards will be thinner than WPC.
Styles and Designs
Both SPC and WPC are available in unlimited textures and styles and there is no difference when it comes to appearance or texture. The décor layer is digitally printed and in design options including wood, ceramics, marble or stone. Both the type of boards also come in various lengths and widths, including herringbone.
Due to the wooden composite, WPC is also slightly softer and quieter underfoot compared to SPC.
Budget
With its more complex make-up, luxury qualities and extended benefits, naturally WPC is the higher priced of the two options – however, both offer significant savings over engineered or solid wood or tile floors, as well as the many practical advantages.
When it comes to click vinyl flooring, at One Step Beyond we offer the superior brand Pro-Tek Engineered Vinyl. Perfect for rooms with high footfall, this vinyl is 100% waterproof and super quick to install with its built-in underlay and its click-lock mechanism. Available with both WPC and SPC variants, there is an extensive collection of 48 natural and stylish finishes and colours with a complete range of matching accessories. Explore the wide range or connect with one of our flooring experts for more advice.
Leave a reply
Your email address will not be published. required fields are marked *