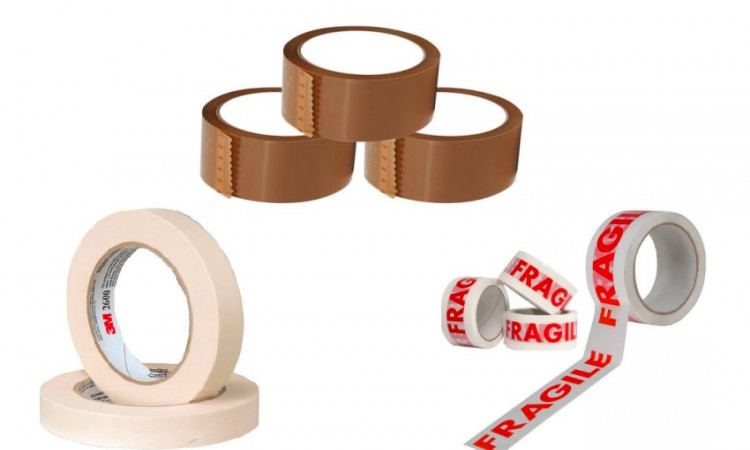 Have you ever grabbed a piece of packing tape lying around at a corner of your house and used to secure those packing boxes holding our extra dishes, stationaries or lamp shades, and end up damaging the stuff inside the packing boxes, you would definitely understand the importance of the right kind of packaging tape.
Packing tapes or packaging tapes are made to secure packaging boxes for storing or moving things. Packaging tapes are made available to suit a number of situations and requirements, along with various types of activators and adhesives.
Types of Packing Tapes
There are a number of packaging tapes available for different jobs- water-resistant adhesion, carton sealing, masking qualities, strapping strength and so on. So before buying one, find out why you need a packaging tape.
Carton-Sealing Tape
The most common type of packing tape, this is frequently used by those working in packaging warehouses and moving companies. These tapes are excellent if packages are not subjected to extreme temperature changes. But if you want to use it on hefty packages, we would suggest you to go for another type of tape.
Cold Temperature Tape
Regular carton-sealing tapes, as mentioned before, are not effective under high temperatures. If you are moving in and around extremely high temperatures, or the package needs to be kept in a freezer for long hours, you would require a cold temperature tape. This one is similar to that of a carton-sealing tape but the adhesive is specially designed to sustain even under extremely cold temperatures. And I am sure that you have already guessed that they are a big no-no for warm weather.
Water-activated tape
When items are shipped across the country, your possessions are in the hands of the packers and security becomes an obvious concern. It is very easy to remove carton-sealing tape, and re-seal the packaging box without any sort of evidence. In such a case, you should consider using a water-activated tape. Water-activated tapes activate when it is wet, holds on to the cardboard, and creates such a tight seal that you would require it to be cut or tear to break. Removal of water-activated tapes will leave behind evidences of tampering.
Fragile Tape
Fragile packing tapes are those variants that are essential for almost every industry, handling fragile goods. The red and white fragile polypropylene tape is the best to code and mark your fragile goods, so that those can be easily be identified in the transit store or at airports or railway stations so that delicate products or pets, like the pup in the movie Hachiko aren't lost in the transit, and are handled with care. These tapes are great for packing and sealing.
Strapping Tape
Are your packaging boxes too heavy for carton-sealing tapes to seal securely? Then you should try using strapping tapes. Packaging manufacturers weave glass filaments or fibreglass into this tape that makes it more durable, flexible and strong. Strapping tape is a bit more expensive than others, and it holds heavy items securely inside containers.
Brown Tape
Brown tapes are the most commonly seen and one the most essential home and office stationery product. A number of variations of brown packing tapes are usually found- Acrylic low-noise brown tape, brown tape buff packaging parcel tape roll and double sided strong brown tape. They are the simplest yet perfect packaging accessory for moving and packing, shipping and parcelling products locally.
Masking Tape
Masking Tape is a specialised tape that has a pressure-sensitive adhesive allowing it to be easily applied and removed. The paper-like, thin, easy to tear adhesive is designed for to tape paintings on baseboards. These tapes can also be used to secure light packages.
Benefits of a Packaging Tape
Security: To make sure that your packages are shipped and handled correctly, an adhesive tape with a strong and proper film guarantees a tight seal and protects your goodies. This will confirm that no matter what, the package will not tear, even if the package is roughly handled. They also guarantee that the packaging is not opened or been tampered with.
Resilient: Packaging tapes are usually durable and can last a long time. The right packaging tape for your specific needs is all you need to choose. You also need to choose the one as per the temperature in which the package will be stored or shipped.
Brand promotion: An easy method to create brand awareness of your product is by printing customised adhesive tapes with your business name or logo. It is quite an inexpensive option and creates an interesting and positive unboxing experience for your customers.
Leave a reply
Your email address will not be published. required fields are marked *