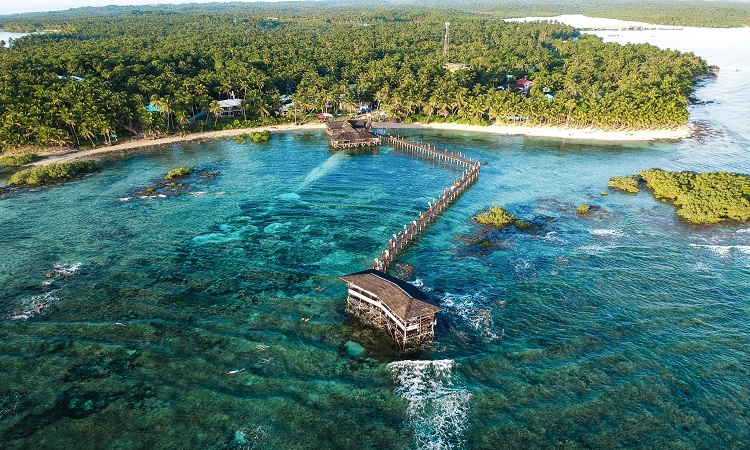 There's no denying the fact that El Nido is among the prettiest destinations in the Philippines! The dramatic beauty of El Nido's landscape that features beautiful beaches, clear turquoise waters, stunning corals, towering limestone cliffs, dense forests, etc., earned it the nickname, Paradise on Earth. Every year, El Nido receives a lot of domestic and international tourists booking cheap flights to the Philippines, whose itinerary focuses on El Nido attractions. Thus, it turned into an overcrowded tourist destination, and you know the downside of this!
The Philippines, being an archipelago consisting of more than 7500 islands, offers a great number of equally spectacular places for those looking for alternatives to El Nido. Here, we have listed five of the best alternatives to El Nido in the Philippines. Read on!
Siargao:
Siargao, a tear-shaped island in Surigao del Norte province, is famous as the Surfing Capital of the Philippines. It is home to world-class surfing spots such as Cloud 9, Quicksilver, Tuason Point, Rock Island, and Daku Reef among others.
Apart from surfing spots, Siargao is also best known for its white-sand beaches, lagoons, rock pools, caves, and mangrove forests! Go island-hopping to Naked, Daku, and Guyam Islands, swim in Magpupungko Rock Pool, paddle along Sugba Lagoon, unwind at Taktak Falls, and explore Tayangban Cave!
Coron:
This is arguably the best alternative to El Nido, Philippines! Coron is a tropical island and the third-largest in the Calamian Islands of Palawan province. Boasting beautiful beaches, clear freshwater lakes, karst formations, rolling hills, and mangroves, Coron's beauty is often compared to El Nido.
Coron is also popular for its wreck diving sites, but that's not all! You can also enjoy various activities like hiking, snorkeling, and scuba diving while in Coron.
Siquijor:
Siquijor, a tiny island located in the Central Visayas region, enchants the tourists with its pristine beaches, waterfalls, caves, natural parks, and coral gardens. It is known as the Island of Magic, not because of its majestic natural beauty but because of the practice of shamanism and sorcery — something about Siquijor that attracts a few tourists while it repulses a few others.
Regardless, you'll love this idyllic island and its laid-back atmosphere — it's a great alternative to El Nido! Palm-fringed Paliton Beach, Lagaan Falls and its hidden caves, three-tiered Cambugahay Falls, white sand beaches and resorts of San Juan, Mount Bandilaan, Butterfly Sanctuary, and Century Old Balete Tree are the major attractions of Siquijor.
Bohol:
Popularly known for its unique geographical formations called Chocolate Hills, Bohol is a must-visit destination in the Philippines. With so many attractions including Spanish churches, beaches, waterfalls, cave pools, scuba diving sites, rice terraces, forests, and tarsier sanctuaries, Bohol never fails to impress. This alternative to El Nido is a perfect place to reconnect with nature.
Beach hopping on Panglao Island, swimming in the lagoon inside Hinagdanan Cave, offering prayers at Baclayon Church, walking across the Bohol Hanging Bridge, watching tiny tarsiers at Philippine Tarsier Sanctuary, driving through the Bohol Forest, visiting Can-umantad Falls and Chocolate Hills are some of the best things to do in Bohol.
Bantayan Island:
If you wish to enjoy a peaceful beach vacation away from the crowds, Bantayan Island in Cebu is the place to be. You really don't have to go all the way to El Nido for white sand beaches and crystal waters because Bantayan Island has them all in abundance. Although an underrated island destination, it is one of the best alternatives to El Nido.
The major attractions of Bantayan Island are Paradise Beach, Kota Beach, Ogtong Cave, Obo-ob Mangrove Eco Park, Virgin Island, Hilantagaan Island, and Sts. Peter and Paul Church. It also entertains tourists with various activities like island hopping, snorkeling, kayaking, skydiving, and cliff diving.
Leave a reply
Your email address will not be published. required fields are marked *