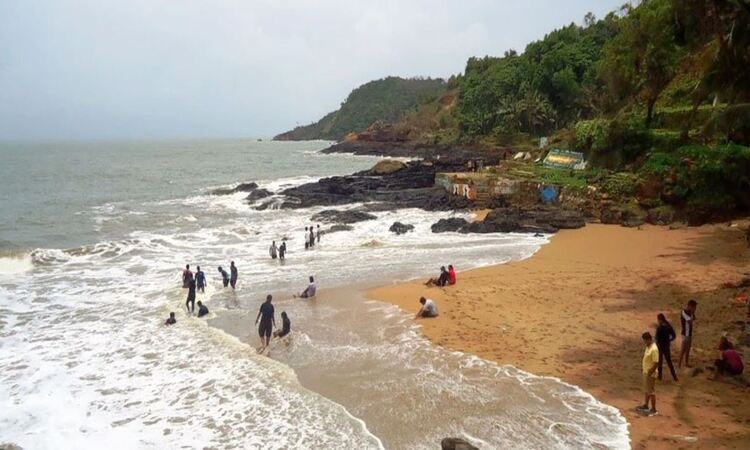 What you will find in the article
• Gokarna
• The beaches in India
• What to see in Gokarna
• The beaches of Gokarna
• Where to stay and eat
• How to get
• Costs
Gokarna
It is a village in southern India and more precisely in the state of Karnataka. It is recognized as one of the sacred places of southern India. The name Gokarna means "cow's ear" a legend has it that Shiva, a Hindu god much revered in the village, was born from a cow's ear.
The cows
Indian beaches, like its streets, are always frequented by cows, it may seem strange to us, but over time we get used to it until we appreciate this peaceful and sweet animal.
The beaches in India
If you are a beach lover and planning your tour in India to enjoy the beaches of India then you have got many options India is a very large country and has thousands of kilometers of coastline, but there are not many places to enjoy the sea and beaches. In Indian culture it is not conceived to go to the beach in costume, bathe and sunbathe, in fact when you meet the Indians on its beaches they are almost always dressed, if they swim they rarely have a costume, men do it dressed or in their underwear, while the women enter the water fully clothed. Precisely for this reason, there are few places to live on the beach, we indicate some of them.
Goa
It is the state most frequented by tourists looking for beaches and entertainment, certainly, in this region, there are the most beautiful beaches in India, but unfortunately, much tourism has made Goa lose its Indian charm. Palolem, Anjuna and Arambol are the most popular places
Kerala
Another Indian state where large flows of tourism pour, has beautiful beaches but not at the level of Goa. Kerala is in great demand because of Ayurveda, it is one of the states where there are some of the best Ayurvedic clinics. The most beautiful beaches are located in Kovalam and Varkala.
Andaman Islands
Dream sea and beaches but the atmosphere is not typically Indian.
What to see in Gokarna
The temples
In the village, there are several temples but unfortunately, foreigners are not allowed to enter, the Mahabaleshwar Temple is the most important temple, it is possible to visit the inner courtyard. The large cistern of the village, frequented by the locals and the many pilgrims who come to take baths and ablutions.
Rama Teertha
Another much smaller cistern, named after the nearby temple dedicated to Rama, here you can cool off and stock up on drinking water.
A tour of the village
Another much smaller cistern, named after the nearby temple dedicated to Rama, here you can cool off and stock up on drinking water.
The best thing is to stay overnight in one of the many Guest Houses on the beach, but for all services such as shopping, withdrawing cash at the ATM, or buying clothes, you have to go to the village. Here you can find cheap restaurants to eat, shops that sell a little bit of everything, religious articles, clothes and the best dhotis and fares in India. Lungi is the traditional garment worn by men, it is a rectangular piece of fabric that is tied at the waist, like a sarong, there are all colors and shades.
The beaches of Gokarna
In Gokarna, there are a number of beaches among the most beautiful in India, which have nothing to envy to Goa. Most of the guesthouses to stay in are very basic, but in recent years there have been several hotels, including higher-level ones, offering spacious, clean rooms with all the services. The nice thing is that you can practically stay by the sea. All the beaches are connected through paths, or they can be reached by hiring a scooter, with the typical tuk-tuk, or with boats.
Gokarna Beach
The main street of the town ends at Gokarna Beach, a very long beach for the most part frequented by locals and Indian tourists, the first part of the beach in front of the village is not that great, but just get away a few hundred meters and the beach becomes cleaner and more organized with several places to stay, also frequented by Westerners.
Kudle Beach
It is Our favorite beach is not too far from the village and in fact, it can be reached on foot via the paved road or by a path through the countryside that passes next to the temple of Rama. If you do not want to take a tuk-tuk, walking from Gokarna in less than half an hour will take you to Kudle. Imagine an exotic place, with palm trees, the sea and a beach hut here is this, and not only is Kudle Beach.
The beach is visited by Westerners and Indians, with many cows and many dogs. When the sun begins to be less strong, the beach comes alive, frisbee throwing is the most practiced sport, the less sporty join groups to play and sing, the more meditative create their own space to practice yoga.
At sunset, everyone stops to greet the sun. You are spoiled for the choice to stay in, you can choose a hut on the beach or there are many more comfortable accommodations such as spacious rooms with all services. Almost all the guest houses have their own restaurant where you can eat typical Indian dishes and international cuisine. The atmosphere of kudle Beach is unique!
Om Beach
Through the path that starts from the south side of Kudle Beach you can reach this beautiful beach in 20 minutes, or in 10 minutes with a tuk tuk. Called Om Beach because of its shape which closely resembles the Om symbol,. The beach is divided into two half-moons, the first frequented for the most part by Indians and fishermen, while the second frequented by many Westerners, mostly young people who want to have fun. As happens in Kudle Beach, even here the afternoon comes alive, young people go wild with music and beach sports.
Half Moon Beach
At the end of Om Beach, there is a path, which initially passes over the rocks and then enters the jungle. In about 30 minutes you will arrive at a cove with an adjacent beach precisely Half Moon Beach. A relaxed and quiet place with a few bars, restaurants, and small guest houses to stay overnight.
Paradise Beach
Continuing on the path in the middle of the jungle in another 30 minutes you arrive at Paradise Beach, the name has not been given by chance it really seems to be in a small paradise. on this beach, there is the possibility to rent canoes.
Belekan
Continuing along the path through the jungle will lead you to Belekan. It is a fishing village overlooking the sea and surrounded by rice fields. Several guesthouses and restaurants, all very basic. The beach is not the best but if you want to lose your tracks, this is the right place, with few tourists and a lot of peace.
Where to stay and eat
For us the best place is Kudle Beach, it offers a great choice of guest houses and restaurants, but also Om Beach is very organized and naturally more beautiful. The last time we got married at Umamaheswara Cottages in Kudle Beach, the place is very quiet, spartan and on the beach, we enjoyed it.
How to reach
Getting to Gokarna is not very easy, but it is also true that in India moving by public transport is not that complicated, wherever you are you will find a public transport that takes you where you ask. Gokarna can be reached by bus or train from one of the big cities of Karnataka such as Mangalore, or by train, from Canacona Station in Goa in a short time you get to Gokarna.
Costs
A simple, double room with a bathroom and three meals a day will cost you around € 15 per person per day, all this in a heavenly place, sleeping a few meters from the beach.
Leave a reply
Your email address will not be published. required fields are marked *