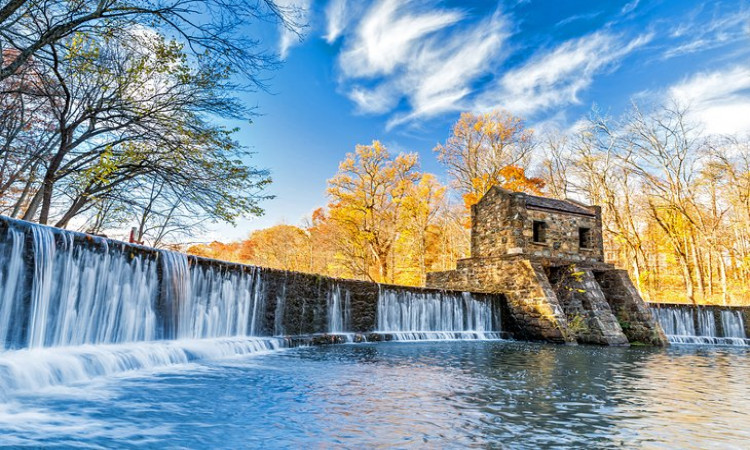 A list of Nature's beautiful creations in New Jersey that will light up your spirit
New Jersey indeed lives up to its name Garden State having some fantastic natural attractions which are incredibly scenic. Around 45 million tourists visit the state every year to witness nature's wonders and stay the night in the Garden State. The top natural wonders like Niagara Falls or the Grand Canyon might not be the part of New Jersey, but still, the state has its own share of nature's wonders. Let's see a list of these 9 natural attractions that are found in New Jersey.
Passaic River Great Falls
Paterson
The Great Falls, almost 77-feet in height, is located in Paterson's Passaic River in New Jersey. Although it is not even close to America's highest waterfalls, the Great falls in Paterson are yet one of the most stunning and magnificent falls in the states. Having so heavy water flowing, it was chosen by Alexander Hamilton to create the city into an industrial town that can use the water from the Passaic River so that most of the surrounding mills could get water power. The Great Falls National Park is so beautiful and unique that it's the most precious Natural wonder in New Jersey.
Buttermilk Falls
Layton
At about 200 feet height, Buttermilk falls are the highest waterfalls in New Jersey. These look even more stunning after there is a storm or heavy rainfall. Inhabited in Sussex, a brief hike from the Delaware Water Gap can take you to this fantastic attraction of nature in the Garden state.
Lake Hopatcong
Morris
Hopatcong Lake is one of the largest Freshwater lakes in New Jersey. It was initially a vacation hotspot for New York People. It is about four square miles apart from towns including Hopatcong and Mount Arlington. This lake is believed to be in existence for more than 12,000 years ago, although several dams have continuously reformed it. People can boat, kayak, or go swimming in the lake. There are a lot of watersports to do as well. You can make your Spirit Airlines reservations in order to visit the lake in New Jersey and enjoy a full taste of nature on your next trip.
The Palisades of New Jersey
Bergen and Hudson Counties
The Nation's natural Landmark is located to the North of Fort Lee and a part of Interstate Palisades Park. It gives an outstanding opportunity for hiking due to the highest point at 550 feet above sea level. These Cliffs are alongside the Hudson River, almost entirely vertical, and are very majestic from below. Enjoy them while boating the water or mountain boat basin. If you want to go on a beautiful, wonderful hike, you can join Palisades.
Whitesbog
Browns Mills
Whitesbog at Browns Mills is part of the Brendan T. Byrne National Forest and is listed on the National Register of Historic Places. Whitesbog includes a historic village and surrounding 3,000 acres of cranberry swamp, blueberry fields, reservoirs, sugar sand roads, and barren pine forests.
Mount Tammany New Jersey
Warren county
Mount Tammany is one of the Biggest Mountain peaks of New Jersey. Its elevation is 1527 feet above sea level. You can enjoy the spectacular scenery in all directions of the Mountain. The hiking trails here have been selected as one of the most beautiful hiking trails in the entire United States.
Delaware Water Gap
Pennsylvania Border
Dwelled in the northwest of New Jersey, along the Delaware River along the border of Pennsylvania, before Route 80 traverses this river, It is a scenic natural wonder. This geological feature was formed when the Delaware River cut a gap in the ridge. Delaware Water Gap is one of America's best recreation areas for hiking, canoeing, fishing, biking, kayaking, hunting, camping, and rafting. The Appalachian Trail runs through the Delaware Water Gap National Recreation Area and stretches for miles, where there are wildlife and waterfalls.
Tripod Rock
Boonton
Tripod Rock is glacially unstable, which means that it is different in size and type from the surrounding rocks and is brought into the area by glaciers located in three much smaller ones in the Pyramid Mountain Natural History District in Buton, New Jersey Drive along Highway 511 above the rocks. Native Americans regarded Tripod Rock as a spiritual relic. It is 15 feet long, 12 feet wide, and 8 feet high. There are two smaller tripod rocks near this natural wonder in New Jersey.
Island Beach State waterside Park
Waterfront park
This 10 miles long attraction is the biggest protected area on the underdeveloped Barrier Island in New Jersey and one of the largest in the United States. When you can swim, fish, and hike, the biggest attraction is the abundance of natural scenery and wildlife. More information about this pristine white sand beach can be obtained if you visit it yourself by making Delta Airlines book a flight and enjoying natures wonders yourself.
Leave a reply
Your email address will not be published. required fields are marked *