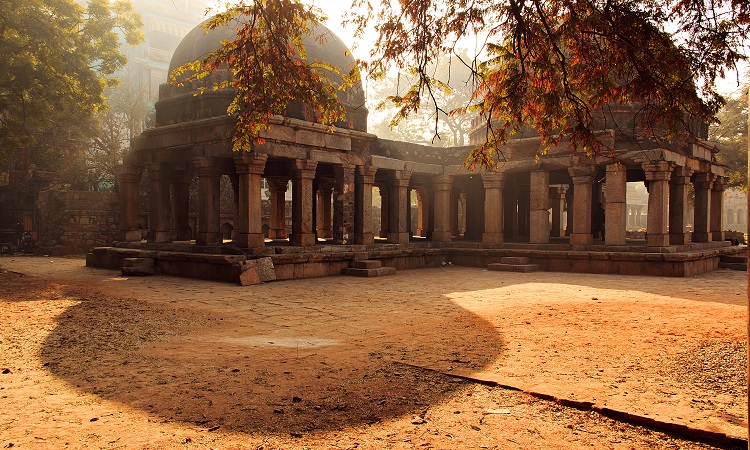 As India's capital city, Delhi attracts millions of tourists every year with its famous tourist spots which include historical landmarks, architectural wonders, places of worship, and shopping markets! A visit to these tourist attractions such as Red Fort, Humayun's Tomb, Qutub Minar, India Gate, Rashtrapati Bhavan, Lotus Temple, and Akshardham temple naturally piques your interest in the rich heritage of the city and encourages you to explore the hidden gems in Delhi. So, we have come up with this article on the unexplored places in Delhi to help you plan your offbeat tour to the city. Wait no more; grab the best deals on flight tickets to Delhi from San Francisco or any other US city, and visit Delhi! Here are some of the city's best-kept secrets you need to check out!
Hauz Khas village:
Built on the ruins of a medieval town of the name Siri, Hauz Khas village displays an interesting mix of old-world charm and modern culture. This unique characteristic of Hauz Khas draws history buffs as well as party lovers to this lesser-known place in Delhi. Located in South Delhi, this village is dotted with so many hip and happening places, including chic cafes, restaurants, bars, boutiques, and galleries. Do not fail to visit Hauz-i-Shamsi, a 13th-century water storage reservoir situated in the nearby Mehrauli district.
Agrasen Ki Baoli:
Agrasen ki Baoli is a beautiful historic structure, whose history dates back to the age of Mahabharata. Featuring ornate arches and ancient stone steps, this step-well is one of the most beautiful hidden gems in Delhi often overshadowed by the towering buildings and noisy streets of Connaught Place. The enigmatic charm of Agrasen ki Baoli and the serene ambiance of the place have always inspired several artists and poets, and its impressive architecture is a photographer's delight! The sunset views from this spot are to die for!
Majnu ka Tila:
This neighborhood in North Delhi is referred to as 'Little Tibet' because of the large number of Tibetans that inhabit the place. Established in the 1950s as a refugee camp for Tibetans who followed suit of their spiritual leader Dalai Lama, this place has since become home to the Tibet community. Experience the Tibetan culture by exploring the narrow lanes of Majnu ka Tila. Visit Buddhist temples, buy Tibetan trinkets and handicrafts from the local markets, and relish authentic Tibetan delicacies like hot momos available at every cafe and restaurant in this area. Isn't it a perfect offbeat place to visit in Delhi?
Jahaz Mahal:
A very old palace built somewhere between the late 15th and early 16th century, Jahaz Mahal is one of the most beautiful hidden gems in Delhi. Located next to Hauz-i-Shamsi in Mehrauli, this ancient structure surrounded by a reservoir gives the impression of a ship floating on a lake, and hence it is given the name Jahaz Mahal. (Jahaz means a ship in Hindi and Mahal is a Hindi word for a palace.) It is a great place in Delhi for people seeking peace and exclusivity. Soak in the serenity of the place and enjoy the majestic sunset views.
Sanjay Van:
This hidden gem in Delhi is a birder's paradise. Sprawled across an area of 443 acres, Sanjay Van is one of Delhi's largest untouched forest areas. Nature lovers and bird-watching enthusiasts love the solitude of the woods in the company of diverse species of birds. This unspoiled natural area is often overlooked by most people owing to its notorious fame as a haunted place. Don't freak out; Sanjay Van is slowly getting rid of its ill popularity as many locals started to visit this forest area for daily walking, jogging, and cycling.
Leave a reply
Your email address will not be published. required fields are marked *