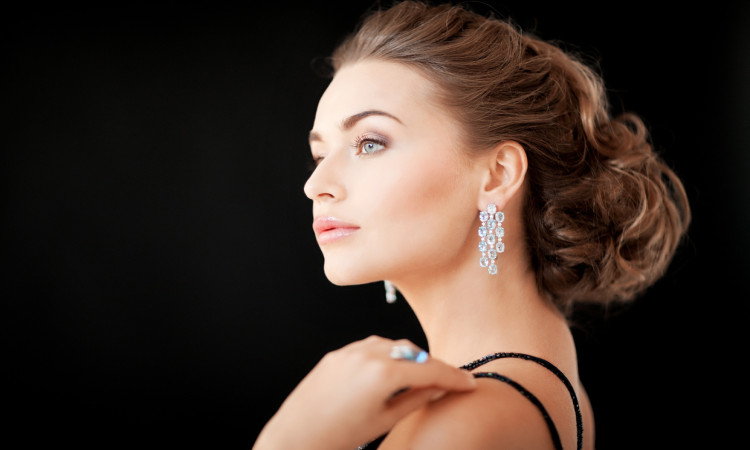 2020 was not the year we all looked forward to. With the new year, we pray to move in positive energy and step out of the house to get back to 'old normal days." If the wedding is on your list of 2021, we divert your mind towards the latest earrings design and the best earrings trends for women this year.
Anyone who has watched "Breakfast at Tiffany's" would be obsessed with Tiffany jewelry. You must have heard several times, "A Diamond Is a Girl's Best Friend Forever". Girls are beautifully obsessed with jewelry, say any jewelry for that matter. We spy some traditional old glamorous pieces doing the round this season.
While your mood board is pinned with engagement rings, trendy jewelry designs, latest trends in jewelry specifically for your wedding day to come. Jewelry is passed down to generations. You may have spotted brides wearing gorgeous earrings with hair chains. There is more to it.
Let's look at the trends in 2021 for women when it comes to earrings:
Statement earrings are setting the trend this season.
Pearl earrings:
Pearls are classic and timeless pieces. Jewelry designers have gone the extra mile when designing pearl earrings. It no longer belongs to your grandmother's lockers, these days pearls are stealing the spotlight. You will see influencers, celebrities flaunting statement pearl earrings with their #ootd.
Pearls are a statement of Royalty. We have spotted Queen Elizabeth wearing a three-layered pearl necklace right from when she was thrown to the title of "The Queen". We mean that pearls are passing from centuries and continue to pass down to generations to come. Earlier, it was looked like a piece worn by old ladies for an elegant look. But now, pearls are dominating the jewelry store. You will spot young women and girls flaunting pearl earrings this year!
Earrings with Hair chains:
How about earrings with hair chains that are setting new trends in the wedding season. From bridesmaids to brides to the bride's mother, there is everything for everyone. You can style these earrings with a side braid or a bun on Mehendi or at your sister's wedding.
Tassel earrings:
Tassel earrings are the newest trend of the town. The beaded tassel jewelry is the new center stage. It was spotted on Alia Batt by many other celebrities at some point. It's best for any destination wedding! Wondering what's a tassel earring? It is designed by using colorful or monotone beads to create long dangly earrings to complete your look. These are indo-western looks, so you can pair them with gowns or with lehengas at your best friend's or sister's wedding.
Floral Earrings:
Have you browsed Mira Rajput Kapoor's Instagram Feed? We love her collection of floral statement studs. They are simple yet classic pieces that can be adorned with simple outfits to heavy outfits. Designers have made floral earrings modern and elegant. They are studded earrings that give a sophisticated look to your overall outfit.
Very Long earrings:
Long earrings were never out of style! You can pair long earrings with your lehengas, gowns, dresses and you're good to go! With very long earrings, you don't have to worry about wearing necklaces. These earrings touch down to your shoulders giving you a funky and vibrant look. Brides can invest in long Polki or Kundan earrings for their Mehendi or sangeet function.
Chand Balis:
Chandbalis are shaped like the moon and hence the name. It gives a touch of traditional to modern-day women. Just a pair of big chandbalis are enough to complete your look at your engagement or a friend's wedding. It goes best with Indian dresses, sarees, and even lehengas. These are a must-buy for this season.
Studs:
Studs never go out of style! Studs come in various shapes, sizes, and materials. It's simple, unique yet elegant that gives a comfortable look to anyone wearing it. Hence, it remains at the top of the fashion trends. Studs can be in diamond, gold, pearls, solitaire, gemstones. It's your pick.
Asymmetrical earrings:
We have spotted this look on the runway of New York Fashion in the year 2019. Asymmetrical earrings have been in trend since then and continue to rule even in the year 2021.
Conclusion:
Whether heavy and ornate or dainty and delicate, there is something for everyone. Indian jewelry has a plethora of designs to choose from. 2021 is the year of colorful gemstone earrings, pearls, diamonds, polka pieces and so much more. What's your pick for this season?
Leave a reply
Your email address will not be published. required fields are marked *