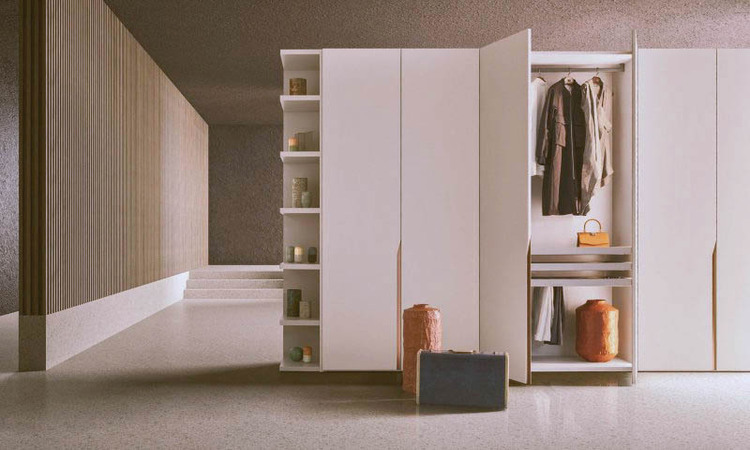 Are you on a lookout for practical and attractive storage solutions for a cramped space? Check the latest and trending range of bedroom wardrobe designs that deliver the promise to save space of your living area!
Ideas for Bedroom Wardrobe Designs for Small Space are:
1. Duplicate Colors and Patterns on the Wardrobe
With the colors and patterns of the walls being duplicated, this sliding wardrobe appears to melt into the background. The result is a small bedroom that has an abundance of storage sans giving an overwhelmed look.
The floor-to-ceiling height and the glossy finish of the wardrobe add further to the space illusion.
2. Wardrobes with Mirror Shutters
You can give your bedroom a look twice as large with wardrobes that come with mirrored surfaces. They give your room a cheerful touch by bouncing light across.
This type of wardrobe design works great for small bedrooms and is customizable as per your choice, taste, and preference – an entire wardrobe with a surface mirrored entirely or just in portion.
3. Adding Lofts to Use Vertical Space
If your bedroom is small but tall, you can utilize the height by going for a loft wardrobe. The slim wardrobe, in this cozy bedroom, is topped with a four cabinet loft. You can use it for storing items which are used once in a while like travel bags, winter wear, quilts, rain coats etc.
The loft lifts the eye and plays up the room height, thereby giving it a more spacious look.
4. Translucent Doors Wardrobes for a Lighter Look
Translucent doors are an intelligently designed wardrobe solution that shows perfection for small bedrooms as they add depth and free the space to a major extent. Simultaneously, the textured surface does not fully reveal the inside items, thereby ensuring privacy.
This is a great alternative for wardrobe doors that are opaque and conventional since they can give a blocky look and seem to eat into the bedroom floor space that is already limited.
5. Use of Neutral Colors for Candid Space
You can make use of white, grays, and neutrals on your wardrobe for opening up your bedroom.
Light colors betray the eye and give your bedroom a bigger and brighter look. Besides, neutrals can be effortlessly paired with dark or light-colored bedroom walls. So you must give it a go to attempt these colors in the designs of the bedroom wardrobe.
6. Making use of the Wall behind the Bed
The wall at the rear of your bed can be used for wardrobes quite effectively.
When you have a compact bedroom, try and make the most of the available space and utilize the wall for the wardrobe behind your bed. This will make sure that your room remains spacious and clutter-free.
7. Go for a Sliding Wardrobe
Sliding wardrobes are bedroom cupboard designs that are most space-efficient and look elegant as well.
Wardrobes with swing doors take up unnecessary space amounts. If you have a small bedroom, you can consider sliding modular wardrobe for space saving.
Conclusion
More often than not, wardrobes act as functional units. But now, bedroom wardrobe designs are evolving to make a style statement in your bedroom. Choose wisely from these ideas and make the full use of your living space efficiently.
Leave a reply
Your email address will not be published. required fields are marked *