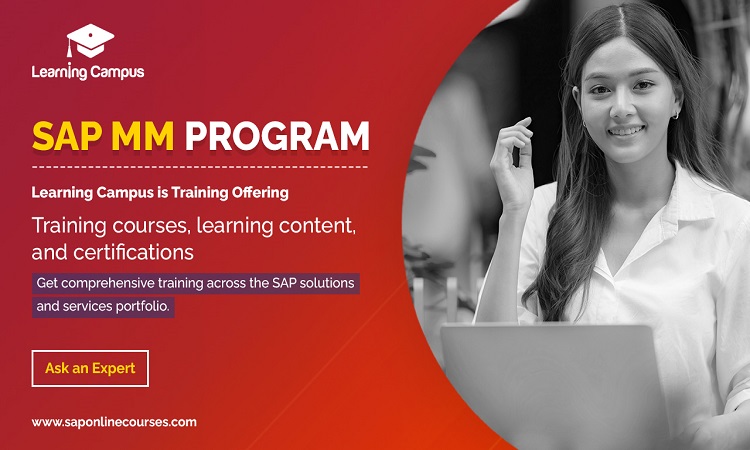 SAP ERP (Enterprise Resource Planning) is commercial software that integrates all data into a single application while accounting for a variety of factors such as time and cost. Businesses may easily meet their business demands with SAP's assistance. Learn about SAP MM via SAP MM Online Training to gain comprehensive skills on the platform.
SAP Business Process:
SAP MM is the abbreviation for SAP Material Management. The functions of SAP MM in a business process are as follows:
A business process is referred to as a "module" in SAP.
It facilitates the handling of a variety of materials (planning, control, etc.).
SAP MM is used to handle an organization's procurement activities and is part of the logistics operations.
Sales and distribution, production planning, plant maintenance, project systems, and warehouse management are all elements that make up logistics' backbone.
Features of SAP MM:
The following are the characteristics of a SAP MM system:
SAP Material Management (SAP MM) is a SAP module that deals with material and inventory management.
It focuses on the Procurement Process, Master Data (Material & Vendor Master), Account Determination & Valuation of Material, Inventory Management, Invoice Verification, Material Requirement Planning, etc.
Material management as a process guarantees that there are no shortages of materials or holes in the organization's supply chain process. SAP MM streamlines procurement and material management processes, ensuring that the business runs smoothly and efficiently.
It is concerned with the management of an organization's materials (products and/or services) and resources with the goal of increasing productivity and lowering costs. Simultaneously, SAP MM is adaptable enough to accept frequent changes in any corporate setting.
SAP MM - Screen Navigation:
The first step in learning SAP is to become familiar with its many displays. The sections that follow explain how to move around the screens in SAP and how to use the standard toolbar's features:
Go to the SAP ERP server and log in. You will be prompted for your User ID and Password on the SAP login screen. Press enter after entering a valid user ID and password. The system administrator gives the user id and password.
Below is a short description of the available toolbars:
Title Bar: The application/business process you are presently in is displayed in the title bar.
Menu Bar: The topline of the SAP system's dialogue window is called the menu bar.
Command Field: Some logical codes are allocated to the business processes in order to launch a business application without going through menu transactions. To launch an application immediately, transaction codes are typed into the command area.
Standard Toolbar: Save, top of page, end of page, page up, page down, print, and other typical operations are available via the Standard Toolbar.
Application Toolbar: This toolbar provides access to application-specific menu choices.
To quit or log off from a module, use the exit keys. They're used to return to the previous screen.
When you're through with your task, it's a good idea to log out from the SAP system. There are various options for exiting the system.
SAP MM - Procurement Process:
To meet its commercial needs, every company obtains materials or services. Procurement is the process of purchasing items and services from suppliers or dealers. Procurement should be carried out in such a way that materials are ordered in the correct amount, at the correct price, and at the correct time.
It is divided into the following sections:
Basic Procurement: The process of procuring items or services in the appropriate amount, at the right price, and at the right time is known as basic procurement. However, striking the correct balance between quantity, price, and time is crucial.
Special Procurement: Special stocks are those that are managed in a unique way since they do not belong to the corporation. Special stocks are stored in a specific area.
SAP MM - Organization Structure:
The organizational structure of a firm is the framework within which all business is performed. The organizational structure is made up of numerous layers that are in direct or indirect contact with one another. The term "organization structure" is sometimes used to refer to the structure of a business. The structure of an enterprise is made up of several interconnected organizational units.
Conclusion:
The SAP MM (Material Management) Module is a SAP ERP component that aids businesses with inventory management, material management, and warehouse management in the supply chain process. It's part of SAP ECC's logistics activities, which are made up of several components and sub-components. The most well-known and frequently used components are Purchasing, Master Data, and Inventory.
SAP MM aids in increasing productivity and lowering costs while allowing for rapid changes in a company setting. Explore more about the SAP MM module by enrolling yourself in the SAP MM Training Institute in Noida. The training will help you in gaining knowledge and skills about the platform.
Leave a reply
Your email address will not be published. required fields are marked *