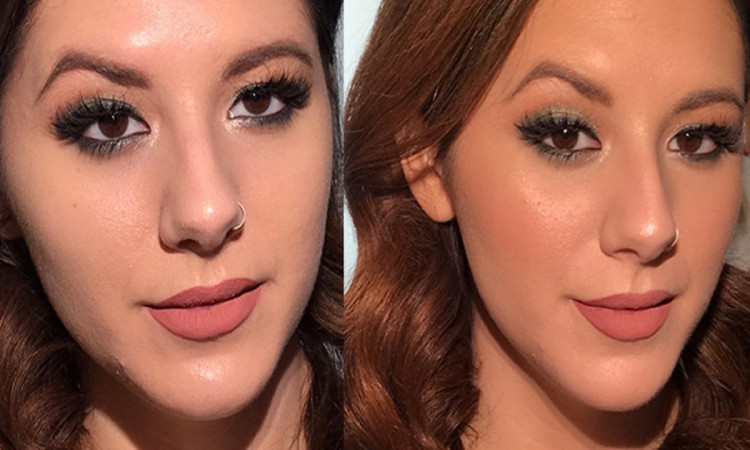 I know I've been missing the landscape a bit lately and unfortunately I've neglected the blog a bit, but I'll make up for it this time with a new post and a new Giveaway. I had some problems and I changed my job, but all bad for good because now I have more time in the morning to sit and take pictures and make looks in a good light!

Also, I recently signed up (I paid the advance) for a makeup course (professional training) organized by the Revolution Cut salon in Brasov in partnership with Reflexo-vital. The course starts this week and will last 3 months, 3 hours 2-3 times a week. I was interested in many places to do such a basic makeup course, even in Bucharest, but because I got a new job, I no longer had the opportunity to go and move to Bucharest.
I don't know if I did very well because I enrolled in this course but it remains to be seen, the important thing is that the certificates are recognized by the Ministry of Labor and Education and are valid both in the country and in the European Union. Later I will go to various short makeup seminars in Bucharest for improvement and maybe I will focus on one type of makeup.
I really want to get involved in the field but honestly I don't know where to start ... let's hope that in the future I will clarify my priorities. To be honest, I haven't even talked to different make-up artists to form an opinion, but in the future I plan to interact with more people like this. And so as not to bore you with my stories, today I wanted to talk in my post about the contour of the face, how important it is and what products I use.Benefit, MAC Cosmetics and MUD Cosmetics and the brushes they use to apply such a product.
The products I chose to outline my features are the following:
Benefit shade HOOLA Bronzing Powder
MAC Mineralize Skinfinish shade Deep Medium
MAC Studio Careblend / Pressed shade Lush-Light Bronze
MAC Mineralize Blush Shade Pressed Amber
MAC Studio Careblend / Pressed Shade Medium Deep
MAC Studio Careblend / Pressed Medium shade
MUD Contour & Highlight Palette
Brushes most often used for such products:
Sigma Large Angled Contour - F40
MAC 128 Split Fiber Cheek Brush (limited edition)
Crown Brush n IB106 - Angle Blush
Crown Brush SS013 - Deluxe Angle Blush
Crown Brush C405 - Contour Blush
Also Visit: brands-list.com
The procedure for contouring facial features is, in my opinion, one of the most important procedures in the art of makeup. It is as if our face "suffers" a small change without having to resort to cosmetic surgery. Especially for mature skin, the contouring of the face makes a big difference between the before and after model , because the lifting effect of the cheekbones, eyes, neck, etc. appears instantly. These are actually some little makeup tricks that can be used very easily.
Here is a very concrete example:
Using the cream shades from the MUD Contour & Highlight palettewe can very easily contour the face according to this model. I apply the shades before using the foundation or the concealer. In my case I don't really need a lot of lifting procedures, but I can make other facial corrections. For example, if I want to thin my nose, I use the contour with the darkest shade from the palette on the edges of the nose up to the top, very close to the inner line of the eyebrows (as in the given example) and the lightest shade in the middle of the nose for brightness.
I apply the light shade under the eyes and around the nose, also for brightness. To give the impression of lifting I have to use a slightly lighter shade on the outside of the eyes than I used for the contour of the nose. After blurring all the shades with a Duo Fiber brush,
There is cause color to cheeks and a little on the temples for a more finished. It is drawn gradually. Also, the line of the jaw, ducan, is outlined
take us lightly to the neck, for a better contouring of the face. I hope you can see how I shaped my skin. I only emphasized the parts of the face in which I applied a darker contour:
Here are the swatches of the 5 products mentioned above:
Benefit shade HOOLA Bronzing Powder
MAC Mineralize Skinfinish shade Deep Medium
MAC Studio Careblend / Pressed shade Lush-Light Bronze
MAC Mineralize Blush Shade Pressed Amber
MAC Studio Careblend / Pressed Shade Medium Deep
MAC Studio Careblend / Pressed Medium shade
From left to right:
Benefit shade HOOLA Bronzing Powder
MAC Mineralize Skinfinish shade Deep Medium
MAC Studio Careblend / Pressed shade Lush-Light Bronze
Also Read: Skin Care Business Name
Leave a reply
Your email address will not be published. required fields are marked *