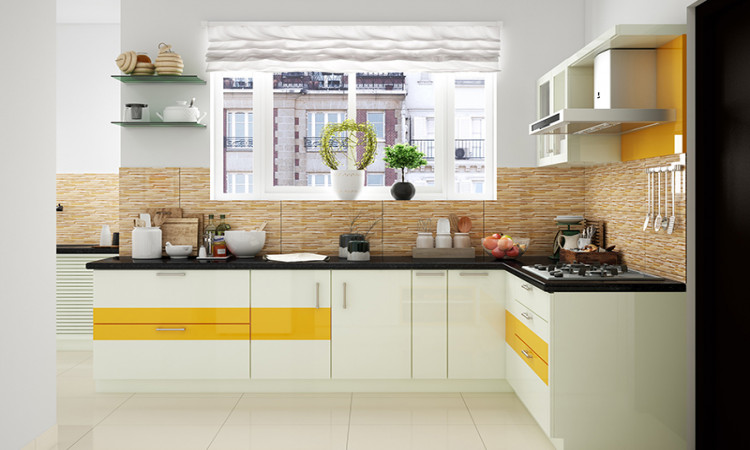 Kitchen storage is one of the biggest problems for most of the women, and despite storing efficiently or even buying less, they find that things are still spilling over to the dining table, countertop and even the sink. Most of the homeowners would love to organize their kitchen storage space in the best possible way. They will make sure that the kitchen is neatly organized so that it is clutter-free and the storage space is also enhanced. Keeping a kitchen organized is the key to keep ourselves sane, yet churn out wonderful dishes day in and day out for our friends and families. Organizing a modular kitchen isn't as hard as it looks. It means something more than just putting everything out of sight and reach. It means finding things when you need them, and separating essentials from occasional use, moreover prioritizing important tasks.
Best Tips for Modular Kitchens
Some tips and tricks for organizing your modular kitchen are as follows:
1. Declutter Kitchen Counters
All the hard work gets done in the kitchen counters itself. Kitchen Counters is the battleground where food is cut, sliced, diced, mixed, fried and cooked. Kitchen counters have to be free and spacious so that the work begins. Kitchen Counters also ensures that cooking supplies and all essentials are situated right next to where you cook.
2. Organize By Frequency Of Use
We should concentrate on how to use available kitchen space effectively rather than focusing on how to make the kitchen look larger or bigger. It can be a messy process to pull out an item at the back of the cupboard especially if the item is used on a daily basis. Organizing groceries by frequency of use can save the users from lots of hassle and time while making your kitchen look clean and crisp.
3. Increase Pantry Storage Space
Pantry storage is not enough. There was a time earlier where a separate room next to your kitchen was mainly used for vegetables and storage of food grains. With the enhancement of refrigerators, pantry sizes began to shrink, and food began to increasingly clog the kitchen counters. The intelligent use of space in modern kitchens is the use of a larger pantry storage space.
4. Maximize Usage Of Kitchen Cabinets
Kitchen cabinets are mainly designed based on the layout and available space. There's no subtle reason why they can't be used for more than just storage of utensils and cutlery. The area in kitchens on and around cabinets can also be optimized to ensure they are quite useful. Moreover, by addition of handles, racks and bars to hang washcloths and aprons, converting smaller nooks into bottle storage and for storing cutting boards, installing specially designed bottle pullouts, every inch of kitchen cabinets can be optimized for larger space.
5. Line your shelves
Kitchen organization is just not about creating more storage space— one has to consider how to make the space fuss-free and easy to clean. In addition to protecting your cabinet shelves, they can also be used to brighten up space. Shelf liners come in every color and pattern you can imagine, and are available in adhesive and non-adhesive styles.
6. Use Wall Space Effectively
For saving storage space in the kitchen, walls should be efficiently and effectively used. One can create racks, cupboards and even cabinets on the walls, which will be of great help in increasing the storage capacity of the kitchen without giving it a clumsy or bad look.
Following the above-mentioned tips above would be immensely beneficial for a better kitchen storage organization.
Leave a reply
Your email address will not be published. required fields are marked *