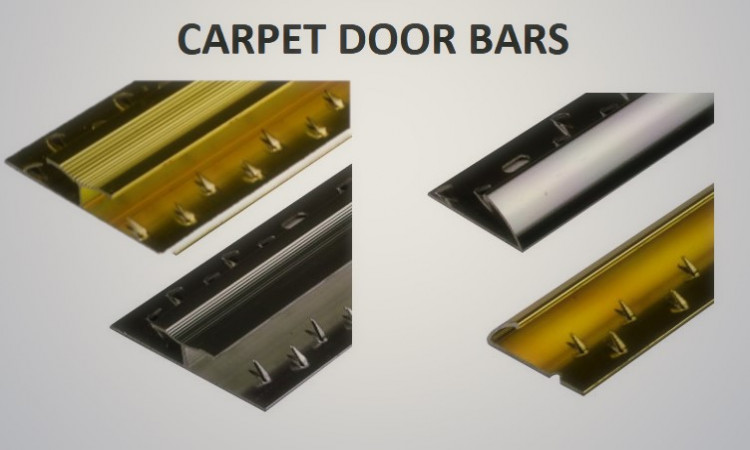 A home is a place where you spend most of your time. Your interiors depict your style and personality. Everyone wants their interiors to be cosy and welcoming. Who would not love to receive amazing compliments from their guests? A soft carpet under your feet is not just a luxury but it also adds warmth to your home décor. With matching carpet door bars, your rooms get a seamless finish.
What are carpet door bars
Carpet door bars help in joining carpets, keeping them in place and making your interiors look seamless. These are ideal for the entrances and doorways and lend finishing touch to your home.
It is one of the most important flooring accessories. It is also known as a door threshold or transition strip. It joins two carpets across a doorway or room. It stretches the carpet and smartly covers up the cut edges.
It ensures that your carpet will have a long life. You can choose a matching finish that will complement your carpet and home décor. It adds luxuriousness to your interiors along with the carpet.
Tips to keep in mind before buying door bars
* Check out the quality and the complete range of types, finishes and styles of thresholds before finalising the one you want to buy.
* You can choose a metal finish that goes with your carpet, this will give a seamless transition from one room to the other. You can buy something to match your door handles. Or it could be something that contrasts with the carpet in colour or design.
* Before you embark on a shopping spree, measure the thickness of your carpet. For thick or thin carpet, you need to buy door bar accordingly, so that your carpet end is neatly compressed into the base pins.
* A door bar should be able to firmly grip without leaving any gap between the carpet and the top of the bar.
* Remember to not include the underlay when measuring the thickness of the carpet.
* Consistency is the key for enhancing your home decor. So choose a consistent colour and finish throughout your house for a coordinated look.
* It's recommended that you order your door bars before time so that when you are getting your carpet fitted, you have it already.
* Numerous options are available in the market. You can choose premium quality, something like brass or aluminium as per your requirement and budget. A brass one can bear day to day wear and tear easily.
Aluminium wrapped with various textures like the wood look, polished steel finish etc is out there for you to choose from. They are super easy to install and even without the need of a professional, you can do it yourself. A wide range of hues, tones and finish can help you to select perfect door bars for different rooms in your home.
Other Flooring Accessories
When buying door bars, you must consider buying other accessories at the same time so that they are colour and texture coordinated. This will ensure that every room in your home looks seamless.
Stair Nosing: If your staircase is the focus of your home, you must buy matching stair nosing. It will add to your décor but at the same time, improve the safety aspect.
Underlay: It is another important accessory, that you must go for. It helps in reducing the noises and adds to the walking comfort under the feet.
For all your needs related to flooring accessories, All in All is your one stop store where you can find an amazing range of high quality accessories, including door bars, trims, transitions, stair nosing, sealants, adhesives and more. They have a wide variety to match all types of flooring, including vinyl or laminate. They have door bars created from oak wood and are available in numerous colours. They also have lacquered and unfinished oak options. You can find different types of profiles like T bar, ramp bar, semi ramp bar and end bar.
You can check out their website and select complementary accessories as per your flooring and interiors. You can discuss your needs with their floor experts and get all your queries answered by them.
Leave a reply
Your email address will not be published. required fields are marked *