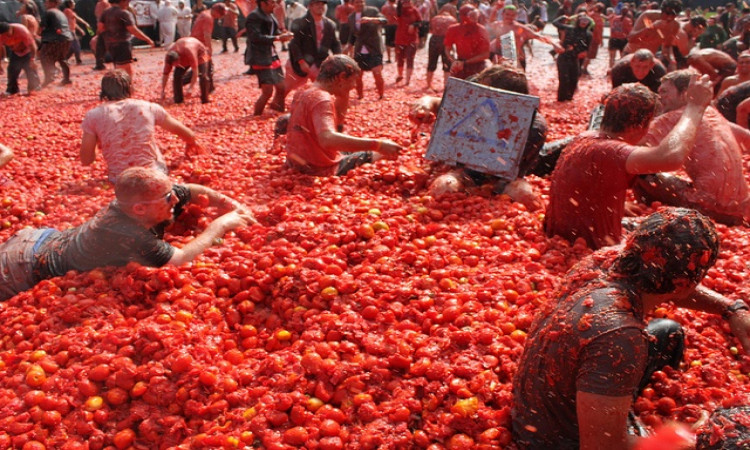 It's Colorful! It's Messy! And It's Fun! Yes, it's all about the La Tomatina festival in Spain. The end of August comes with excitement in the air. A large number of people from all over the world gather on the streets of the small Valencian town of Bunol to celebrate this festival. In madness clubbed with excitement, people throw ripe tomatoes at each other that makes it "World's Biggest Food Fight".
Besides its craziest celebration, La Tomatina comes with some interesting and worth knowing facts. If you want to experience the fun and join the La Tomatina festival in Spain, here are some unknown La Tomatina Facts.
Unusual But True Facts About La Tomatina Festival
1. It is the Largest Food Festival
With the gathering of over 40,000 people from all over the world, La Tomatina has become the world's food largest festival. People especially visit Spain in August to participate in the La Tomatina festival to experience the fun and enjoy this one and only colorful festival.
2. It Brings Other Festivities Too
Besides playing with ripe tomatoes, the La Tomatina festival in Spain comes with other interesting things to do. Starting with the tomato fight, the festival leads with a massive slug-fest, parades, fireworks and ends up with a Paella cooking contest. These all activities bring excitement among the people for this festival.
3. It's All Started With Fight
It was basically started with a small fight that eventually turned into a big tomato fight. On one last Wednesday of August in 1945. A boy fell off from the group of boys who came to participate in the Giants and Big-heads figures parade in the Town Square. The participant became angry and started hitting everyone in his path. To defend themselves, the public started pelting each other with tomatoes from the nearby vegetable stalls. The following year, a group of boys organized a pre-planned tomato fight and since then tomato fight has become the annual tradition and today it is celebrated as a famous festival in Spain. Among others, it is one of the interesting La Tomatina facts to know.
4. Only Ticket Holders are Allowed
With the popularity of the La Tomatina festival, people had started coming in large numbers to play this. One day of the La Tomatina festival, the population swells from 9,000 to 30,000. Taking this into account, authorities decided to only allow paid ticket holders to enter the town to enjoy La Tomatina.
5. Start the Festival With Pulling the Ham
Every year, the festival starts with the pulling of ham which hangs on the top greasy pole. An enthusiastic participant climbs the pole and pulls the slice of ham. Once it is done, the loud signal goes off, a truck loaded with tomatoes comes in to begin the chaos. This is one of the La Tomatina facts that one should know before going to Spain.
6. Large Quantity of Tomatoes are Used
For a fight of just an hour, over 40 metric tonnes of tomatoes are used. The tomatoes are lower in quality, inferior in taste, and come from a cheap place called Extremadura. One interesting thing is these tomatoes are grown especially for La Tomatina.
La Tomatina Festival Recreation is Banned in Some Countries
Though originated in Spain, the La Tomatina festival has been recreated in many different countries like Chicago, Costa-Rica, Columbia, Nevada, and India. Sadly, when India attempted to recreate this festival in Bangalore city, the country was met with criticism and the event was banned mentioning huge waste of tomatoes. Among other La Tomatina facts, this one is a must to know if you're planning to organize an event related to the La Tomatina festival of Spain as it may be possible that your country wouldn't allow this.
The excitement of La Tomatina continues year after year. However, Spain is known for its various things like drinks, football, beaches, cooking events, but La Tomatina is something notorious. If you're curious to enjoy this festival, learn about some interesting La Tomatina facts before you begin.
Leave a reply
Your email address will not be published. required fields are marked *