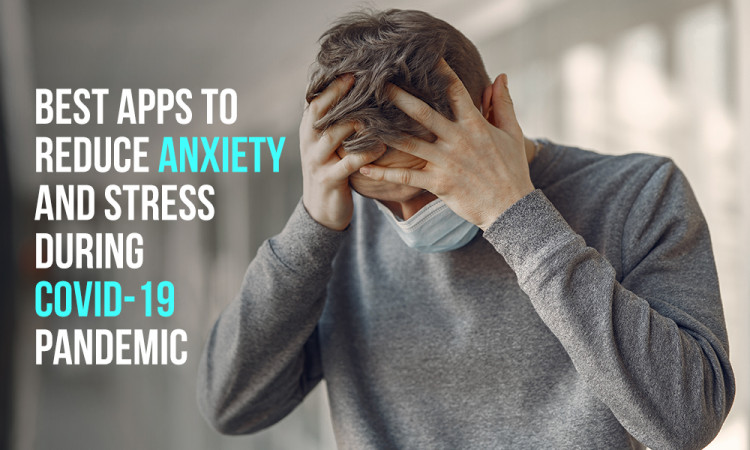 Currently, the whole world is suffering from the COVID-19 pandemic. More than 3.5 lakh people have lost their life. No vaccine has been made to contain this outbreak and the only solution to avoid its spreading is social distancing. To maintain social distancing, the whole world goes under lockdown, except for essential services.
The businesses and companies also allow their employees to work from home until everything doesn't come to normal. But are you aware that people sitting at home facing various mental problems like loneliness, anxiety, stress, and many more?
From a recent survey on employees, it was found that more than 52% of people are facing issues of loneliness during work from home, around 55% of people are facing anxiety, and around 53% of people are experiencing various mental health-related issues.
To avoid these issues, various healthcare app development companies start developing apps that help in reducing these problems. Here in this blog, we are going to know some of the best mobile apps for mental health.
Best Anxiety Relief Apps
During the COVID-19 pandemic, the demand for mobile apps for mental health increases rapidly and most of the people start using these apps. Let's check some of the best apps to reduce stress and anxiety.
Wysa
It is an AI-enabled mental health app that provides users a better platform to reflect, vent, and develop emotional resistance. The app is highly popular among users due to its advanced features. The app generates a personalized health kit drawn from self-help techniques from CBT. The in-built health buddy and well-being tracker helps you in tracking your mental health and it also suggests mindfulness audio clips, spiritual meditation, and various self-assessment tools as per your needs.
The best thing about the app is that it is free to use and available on both iOS and Android. It helps you in dealing with anxiety, grief, sleeping problems, and depression.
• Stop Breathe and Think
It is one of the best mobile apps for mental health issues. It is available for both platforms and provides various mindfulness and meditation strategies. The app provides support in various ways to reduce stress. It contains an in-built tracker to check your daily stress level and whether you are physically fit or not.
It also contains various exercises with videos to assist you and you can select any of them as per your body needs. The app is highly popular among users during the COVID-19 pandemic and helps them in reducing their stress levels.
• Insight Timer
It is one of the most recognized healthcare apps providing free mediation exercises to keep your mind fresh, manage stress level, reduce anxiety, improve sleep, and enhance happiness. The best thing is that it doesn't only offer quality sessions, but also provide 24000 different meditation routines to improve your mental as well as physical fitness.
It contains several categories for meditation such as calming music, sleep, stress-free, talks, and many more.
• InnerHour
InnerHour provides a range of therapeutic tools, personal self-help, educational material and webinars, bot-based tests, and seven aboriginal language Voice/Video Therapy workshops. The emphasis is on offering AI-based self-help resources, customized services, assisted groups, and a step-by-step approach to treatment, introduced by Dr. Amit Malik and Neha Kirpal some two years ago.
The Start-up has introduced a free coronavirus-focused program in addition to InnerHour services on depression, stress, and anxiety.
• Headspace
Headspace, launched in 2012, has gained huge popularity by offering guided meditation courses to enhance mindfulness and well-being. The headspace was founded by businessman Richard Pierson and former writer and public speaker Andy Puddicombe.
After its inception, Headspace has gained much public coverage, including the sponsorship of celebrity organizations including Martha Stewart, on numerous outlets in the US and UK. The app was also used in several clinical trials to boost well-being and reduce pain, anxiety, etc.
• Spiritual Transformation Daily
Through holding an agenda and giving small notes to performing yoga, people are always searching for things that help them explore this elusive inner tranquility at this pandemic. This is not easy because there is no harmony in you to achieve a sense of balance and creating faith as a constant presence in one's own life. Although there is no path to salvation, from time immemorial people have used meditation and breathing techniques to feel more aware, mindful, and centered.
The app also provides an in-app messaging tool to share daily positive quotes on social media platforms and the best thing is that you can set alarm for daily notifications about quotes.
• Cam for Better Sleep
Calm provides guided mediation methods that highlight mindfulness. The app is highly popular with having more than 10 million Google Play downloads. It also tells short stories in a soothing voice that allows you to sleep better. The App includes many sleep songs, meditation exercises, master lessons, and music for relaxation.
• Vent with HearMe
If the imposed loneliness adds to your spirit and places your mental health at a loss, HearMe is the caring and compassionate listener you've needed. It lies between a friend and a therapist and enables you to connect anonymously with an empathic HearMe Listener at no cost in just a minute.
HearMe is available 24 hours a day. From the relationship to the work problems, you can discuss anything. The talks are conducted in real-time and are directed by professional chat listeners. HearMe promises you complete confidentiality and provides you with a personal dashboard to monitor your progress through previous sessions.
Conclusion:
Various healthcare apps provide support during the COVID-19 pandemic; the above-discussed are some of the best from all of them. The demand for such apps in its peak during this crisis and that's why various healthcare app development companies start developing such apps. It's time to be mentally strong and together fight against this pandemic to save the world. 
Leave a reply
Your email address will not be published. required fields are marked *