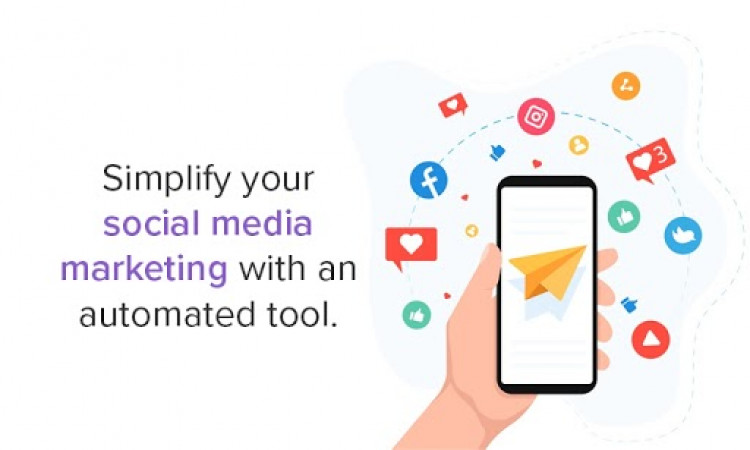 With over 53% of the world's population active on social media, businesses are focused more than ever on meeting their potential and existing customers where they are. But finding time to establish an optimized social presence while focusing on your business can be a challenge. If you're in the same boat, using a social media marketing tool is the ideal solution for you.
Today, social media has become an integral part of any successful marketing strategy. Businesses are using different social platforms to achieve their marketing goals and boost their growth. Thanks to the increasing userbases of social platforms like Facebook, Instagram, and Twitter, marketers can now reach their target audience at the click of a mouse.
Among numerous benefits of social media marketing, increased exposure, improved traffic, and lead generation are the major advantages listed by the industry experts. Within this scope, social media plays a crucial role for businesses in acquiring new customers and retaining the existing ones.
However, keeping up with the latest social media trends and evolving market tactics is a daunting task. The good news is using a social media marketing tool can help make it simple, manageable, and effective!
Wondering how? Let's get started.
Why Do You Need a Social Media Marketing Tool?
The last thing you want as a business is to see your competitors ahead of the curve. This explains why your business should use the best tool for social media marketing worth your budget.
5 Reasons You Should Invest in Social Media Marketing Tool:
1. Easily Manage Different Social Media Channels
Today, social media marketing is more than just Facebook. Your target audience is on Instagram, Twitter, LinkedIn, and many more social channels. It's important to know where your ideal audience-base is spending most of its time, which platforms cater best to your industry, and which channels suit your content type.
Once you identify which social sites make the most sense for your business, narrow your focus. But it is not as simple as it may seem to manage these channels as your audience is looking for a unique experience on each platform.
Getting a social media marketing tool such as Practina will remove the hassle of growing your presence on multiple networks at once. You can manage all your social media right from one dashboard. It'll give you a stronger social media presence and increase your engagement!
2. Create Customized Social Media Posts
One of the biggest challenges as a social media marketer is to create appealing posts. The best tool for social media marketing will automatically craft posts based on your industry, business, & audience preferences.
You'll get the perfect posts that match your style and brand voice. It will help you maintain a consistent content flow throughout your social media channels that convey the same brand message. Moreover, it'll help you create customized posts for special days, current events, and holidays!
You no longer need to worry about dedicating your precious time to create perfect posts when the tool will do all the legwork. Instead, you can focus on fostering relationships with your followers!
3. Improve Engagement Across Social Platforms
Now when you have well-crafted posts for social media marketing, the next thing you need to do is engage your followers on different platforms. No matter how many likes, shares, or comments you get on your posts, your followers will lose interest if you fail to connect with them in real-time.
Studies show 40% of the users expect brands to respond to their comments or messages within the first hour of reaching out on social media. Furthermore, 79% of people expect a response in 24 hours. Another research shows when people feel connected to your brand, they are more likely to buy your products or services.
An automated social media marketing tool can simplify the process for you saving your time. You can utilize these time-building relationships with your audience by quick responses and sharing their comments or messages as your social media stories. Hence, you'll be able to gain a loyal following-base across social media.
4. Social Media Post Scheduling Becomes Easy
Do you find yourself scrambling for content to post on social media? Creating posts at the last moment can be challenging and lead to typos, incorrect tone, and many other mistakes. To save yourself from such a stressful situation, investing in a social media marketing tool is the best solution.
It will help you plan your content flow on social channels in advance, reaching your right audience at the right time. You can easily schedule and publish posts on different platforms at the same time. Also, scheduling posts in advance will help you maintain consistency and establish an optimized social presence.
5. Get Access To Live Reports
Since the digital marketing landscape is rapidly evolving, it is important to check your social media performance from time to time. But manually evaluating what strategy is working for you and what strategy needs refinements, call for the right metrics.
The right social media marketing tool such as Practina can help you access data-driven reports and live evaluation records in one place. You'll learn how well you're performing on social media just at the tap of a button.
Summing It Up
These are some of the best reasons that suggest why you need a tool to manage your social media. You no longer have to put effort into handling your social accounts when you can use an innovative tool to do all the tasks for you automatically.
If you want to stand out from your competitors, investing in a social media marketing tool is the best decision you can make!
Leave a reply
Your email address will not be published. required fields are marked *